DOCUMENT RESTORATION SERVICES
Restore Documents With Freeze Drying & Cleaning Services
Fires and floods that cause water damage can cause more than just structural damage to your business. In the aftermath, some of your most valuable contents, documents, and sensitive records can become unrecognizable or even lost. However, with help from your trusted disaster recovery partner, some of these assets can be restored and recovered.
Cotton Global Disaster Solutions, one of the leading disaster recovery companies in the nation, has extensive knowledge and experience in commercial document recovery & restoration and contents drying. Trust in Cotton GDS to save what you thought you'd lost.
For emergency document and contents restoration, CALL (877) 511-2962.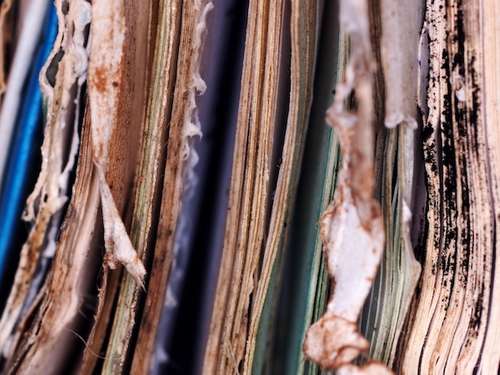 THE COTTON DIFFERENCE
24/7 Situational Awareness.
Pre-loaded fleet for immediate dispatch.
Trusted global partner in restoration, disaster recovery, and construction.
Adhere to OSHA standards, along with local, state, and federal regulations.
Commercial-grade equipment and innovative thinking.
Using state-of-the-art technology and innovative techniques, Cotton GDS can expertly clean and restore your business's important documents and physical contents. With crews available 24/7, each service, from paper restoration to electronic contents drying, will be completed as soon as possible for your company's use.
In addition to cleaning and restoring your contents, Cotton GDS aids in contents manipulation and inventory, as well as the pack-out, moving, and storage of products.
Damaged documents that can be restored:
Blueprints, Whiteprints, Maps, and Drawings

Tax Documents

Vital Records and Data Files

Invoices/Receipts

Archives

Contracts

Licenses and Certificates

Photos, Including Negatives

Microfiche and Microfilms

Books and Magazines

X-rays
Damaged Contents that can be restored:
Electronics
Media
Machinery
Raw Materials
Fine Art Restoration
Office Equipment
Document and Contents Restoration Tools and Techniques:
Vacuum freeze-drying technology

Gamma irradiation

Conversion to digital files

Microbial disinfection

Ultrasonic separation

Deodorizing

Sanitizing
Frequently Asked Questions
+ What should I do first if my contents, documents, or papers are flooded?
The first step is identifying all of the items you need to have restored. Make a list for your restoration company that includes every single paper document, electronic device, and item they should include in their scope of work. If document drying and contents restoration can't be done immediately, Cotton GDS can freeze your documents. By freezing your documents, you can stop them from producing mold, sticking to one another, and bleeding through. This process is helpful if you need to focus on restoring your commercial structure first, before documents and contents.
+ How likely is it that my business documents, papers, or other contents can be restored if they are damaged by water?
If the documents are handled properly, dealt with in a timely manner, and professionally placed in a vacuum freeze dryer, the likelihood of documents being restored is high.
+ What should I do if I see mold growth on my wet documents or contents?
If you see mold growth on any wet documents, paper, or contents, you should try to isolate the contents as soon as possible. If the volume of growth is extensive, it may be easier to isolate the room instead and call a professional restoration team like Cotton GDS to mitigate the damages.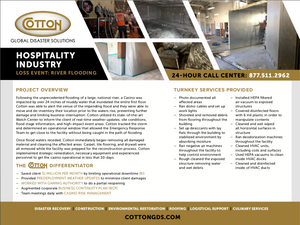 Following the unprecedented flooding of a large, national river, a Casino was impacted by over 24 inches of muddy water that inundated the entire first floor. Cotton Global Disaster Solutions implemented strategic remediation, necessary equipment, and experienced personnel to get the casino operational in less than 30-days.