DAMAGE RESTORATION FOR FINANCIAL SERVICES
A Trusted Partner for the Financial Services Industry
With 25 years of experience restoring facilities in the financial services industry, Cotton Global Disaster Solutions understands the importance of these properties. Financial institutions are some of the most critical facilities to an economy, whether local or national. When a financial institution suffers fire, water, wind, or other types of damage, the resulting consequences affect not just your facility's employees and customers, but could reach the local economy and beyond. As financial services professionals, you are under pressure to get your properties back up to speed quickly and safely.
Our team of certified damage restoration and disaster recovery professionals and state-of-the-art equipment helps restore financial services industry properties as safely and quickly as possible while following strict local, state, and federal protocols.
For immediate help with financial services facility restoration, CALL 877.511.2962
Our financial services restoration services
Cotton GDS guides you through the entire financial services facility restoration process, from the initial assessment through catastrophe management planning, restoration, and reconstruction. As a top leading partner in the industry, your property is in the right hands.
Financial Services Facilities We Serve
Banks
Brokerage Offices
Corporate Headquarters
Mortgage Lenders
Mutual Funds Companies
Financial Centers
Tax Offices
Consulting Firms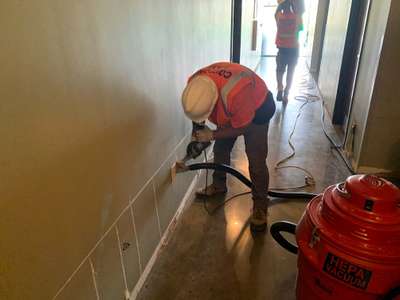 FREQUENTLY ASKED financial services RESTORATION QUESTIONS
+ How is Cotton GDS different from other financial services restoration companies?
Cotton GDS understands how important it is for financial services to continue functioning during the restoration process. We make this possible through specialized turnkey solutions in restoration, logistical, and catering support. Additionally, Cotton GDS combines our own set of safety standards along with strict adherence to local and national safety guidelines in order to keep your team, our team, and customers well protected.
+ What is our experience working with the financial services industry?
Since 1996, Cotton GDS has worked alongside the financial services industry to restore properties and get businesses back up after natural or man-made disasters. The team of experts and state-of-the-art equipment available through Cotton GDS allows us to work closely with industry stakeholders to create a plan that works for them and their financial services, from construction to roofing to restoration services.
+ How fast can Cotton GDS respond to an emergency at your financial services facility?
Cotton GDS is committed to always being there for your facility - no matter the day or time. Our team of first responders and equipment are available 24/7 and can respond to a disaster quickly and efficiently.