SOOT & SMOKE REMOVAL SERVICE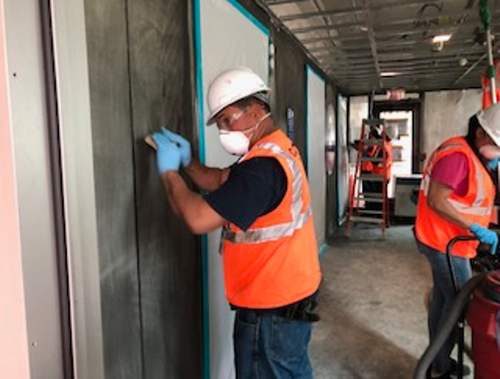 Rapid Cleaning & Restoration of Fire Damage
No matter the size, a fire in your business can be a traumatic experience. Aside from fire and water damage, smoke and soot can ruin your building's structure, furniture, carpet, HVAC system, windows, and most importantly, can create respiratory issues for those who occupy your facility. To keep your facility's walls and appliances from turning yellow, your carpet and furniture from smelling like smoke, and to eliminate health hazards, Cotton Global Disaster Solutions uses commercial-grade equipment to clean the aftermath of a fire, removing all soot and smoke.
Hiring a professional team to handle fire damage restoration ensures that the smoke and soot removal and cleanup are done efficiently so business operations can resume as soon as possible.
For immediate help with fire damage restoration, CALL (877) 511-2962.
THE COTTON DIFFERENCE
24/7 Situational Awareness.
Pre-loaded fleet for immediate dispatch.
Trusted global partner in restoration, disaster recovery, and construction.
Adhere to OSHA standards, along with local, state, and federal regulations.
Commercial-grade equipment and innovative thinking.
Cotton Global Disaster Solutions understands the impact any amount of downtime can have on a business, which is why expert fire restoration crews are available 24/7 and work around the clock to get properties restored.
Commercial Smoke, Odor, and Soot Removal
Soot, the black powdery residue made up of impure carbon particles, is produced by the incomplete burning of organic matters like wood and oil. This substance is released during the fire event and sticks to every surface of your facility and equipment. If left untreated, soot's acidic particles can affect the well-being of your property, electronics, and workforce.
To begin the smoke removal and soot cleaning stage of the fire damage restoration process, Cotton GDS will first use air scrubbers with HEPA (High-Efficiency Particulate Air) filters to remove impurities and odors in the air.
Next, using HEPA vacuums, crews will efficiently trap dirt, soot, and dust particles that blanket your floor and other surfaces of the building, as well as the HVAC system. For extra measures, Cotton GDS will also wipe all vertical and horizontal surfaces of the affected area with approved chemicals that clean and remove odors.
If a business has valuable equipment or furniture that needs to be salvaged, Cotton GDS will carefully remove the remnants from the valuables and ensure they are restored to their pre-event condition.
All this is completed in tandem with other fire damage restoration services to expedite the recovery process and limit business interruption.
Frequently Asked Questions
+ Should I call my insurance first after soot & smoke damage?
With over 20 years of experience in the industry, Cotton GDS recommends getting a professional restoration contractor on site as fast as possible. Your insurance company wants you to be proactive when it comes to dealing with damage to your commercial property and delaying your call to a professional restoration contractor can cause more damage.
+ What does fire damage cleaning & restoration entail?
Cotton GDS provides turnkey fire damage restoration and recovery services for all commercial properties. This includes cleaning and removing soot and smoke damage, rebuilding damaged structures, and cleaning and conserving your company's assets. Fire damages are often accompanied by water and chemical damage from firefighting efforts, which is why we also provide water damage restoration, drying, and clean-up services.
+ Is it safe to enter my commercial property before soot & smoke damage mitigation?
Cotton GDS strongly advises you to avoid re-entering your business or commercial property after a fire. Beyond the risk of smoke inhalation, fire , soot, and smoke can weaken a building, increasing the possibility of your property collapsing and causing injuries.