POWER PLANT DISASTER RECOVERY PLAN
KEEPING THE POWER ON WITH COTTON
Energy demands from both businesses and private homes continue to grow exponentially throughout the world. As energy plants and facilities continue to innovate new and complex ways to generate it, their importance to the continued function of local and national infrastructure grows exponentially. That's why any natural or man-made disaster that stops them from their useful purpose is itself exponentially dangerous. Because of the essence of power plants and energy facilities, it's important to have an emergency disaster recovery plan in place to prevent any major losses.
With 25 years of experience in providing turnkey solutions for power plants and energy facilities, Cotton Global Disaster Solutions understands the importance of getting your facility back to a pre-disaster state quickly and efficiently. Cotton GDS has robust experience not only in water and fire remediation, but also in cleaning up debris, hazardous, and raw materials that require a specific skill set to handle. Our team of certified professionals and state-of-the-art equipment helps get your power plant and energy facility back up and running quickly while following strict local, state, and federal protocols.
For immediate help with power plants restoration, CALL 877.511.2962
Our Power plant & energy facility restoration services
Thanks to years of experience working with stakeholders in the energy industry, Cotton GDS is well equipped to guide you through the energy plant and facility restoration process. From water damage to remediation of hazardous and raw materials, Cotton GDS takes you from initial assessment through catastrophe management planning, restoration, and reconstruction.
Power Plants & energy Facilities We Serve
Gas-Fired
Diesel-Fired
Solar Power
Wind Power
Geothermal
Nuclear Power
Hydroelectric
Coal-Fired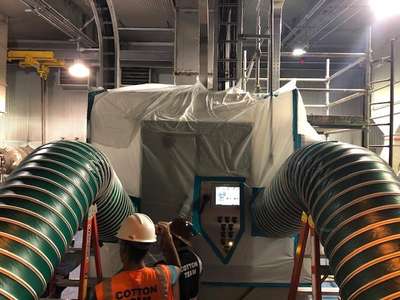 FREQUENTLY ASKED Power PLANTS & FACILITIES RESTORATION QUESTIONS
+ How is Cotton GDS different from other power plant & facilities restoration companies?
Cotton GDS has a deep well of knowledge gained from years of experience working with energy and power generation companies to restore their facilities. Decades of experience in water and fire damage restoration as well as hazardous and raw material cleanup have helped develop specialized turnkey solutions in restoration, logistical, and catering support. This experience, along with Cotton-exclusive safety standards, allows Cotton GDS to quickly and efficiently restore an energy plant or facility while keeping all teams onsite well protected.
+ What is our experience working with the energy industry?
For 25 years, Cotton GDS has been a trusted partner to energy plants and facilities nationwide, leading remediation efforts for water, fire, debris, and hazardous and raw materials. Cotton's teams of experts and state-of-the-art equipment allows for a close working relationship with stakeholders, creating plans that work for them and allow for a rapid return to pre-disaster operations.
+ How fast can Cotton GDS respond to an emergency at your energy facility?
Cotton GDS is committed to always being there for your facility - no matter the day or time. Our team of first responders and equipment are available 24/7 and can respond to a disaster quickly and efficiently.