COMMERCIAL ASBESTOS REMOVAL & LEAD ABATEMENT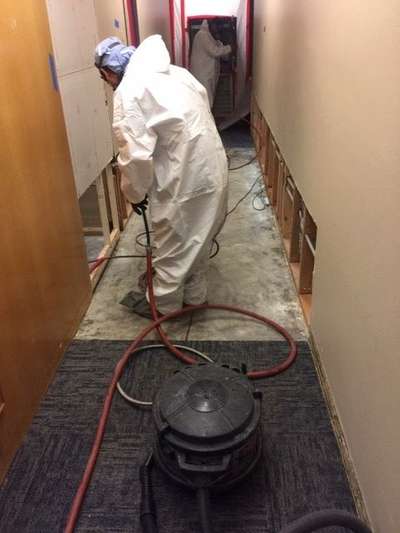 Experts in Asbestos & Lead Removal
Asbestos and lead are harmful substances that can appear in your building and could cause great harm to those working or residing within it. To protect your business, you'll need to hire a professional team that can assess and remove hazardous substances efficiently to minimize operational downtime.
Cotton Global Disaster Solutions is a leading expert in asbestos removal and lead abatement. Utilizing premium equipment and proven techniques, Cotton GDS's expert technicians help business owners clean up and remove hazards that could jeopardize their reputations.
For immediate asbestos removal and lead abatement, CALL (877) 511-2962.
THE COTTON DIFFERENCE
24/7 Situational Awareness.
Pre-loaded fleet for immediate dispatch.
Trusted global partner in restoration, disaster recovery, and construction.
Adhere to OSHA standards, along with local, state, and federal regulations.
Commercial-grade equipment and innovative thinking.
If you suspect or have confirmed the presence of asbestos or lead in your building, you must take immediate action to remedy the situation and prevent exposure to your employees, tenants, or guests. Cotton GDS is available 24/7 and is ready to deploy the necessary teams and equipment to begin the abatement process.
PROTECTING YOUR PROPERTY FROM ASBESTOS & LEAD PAINT
Since asbestos and lead are both dangerous substances, they must be removed carefully by a team of trained technicians. Cotton GDS is certified to perform asbestos and lead abatement and adheres to strict OSHA regulations, along with local, state, and federal laws. Upon arriving at your facility, Cotton GDS will use the latest equipment and proven techniques to immediately:
Contain the affected area and begin the removal process.

Clean and decontaminate the surfaces and materials.

Dispose of asbestos and lead-based material properly, as stated by the law.
Frequently Asked Questions
+ How can asbestos affect my health? 
There are six types of asbestos that can be found in a building's insulation, HVAC system, flooring, and hidden areas. When broken down, microscopic asbestos fibers are inhaled, cling to the lungs, and cause serious diseases, such as lung cancer, mesothelioma, or asbestosis.
+ Is lead paint dangerous?
Lead, which can be found in a variety of materials within a home or commercial building, is highly toxic to human organs like the brain, kidneys, and the cardiovascular system. If you suspect your employees or tenants are being exposed to lead in your facility, immediate action is needed. Call your trusted remediation partner as soon as possible to remove the lead and protect your business.
+ HOW FAST CAN COTTON GDS RESPOND IF ASBESTOS OR LEAD IS FOUND AT MY COMMERCIAL PROPERTY?
Cotton GDS is committed to being there for your business 24/7. Its strategically-placed field offices, pre-loaded fleets, and partnerships with first responders around the world allow Cotton GDS to respond quickly and efficiently.