DAMAGE RESTORATION FOR INDUSTRIAL FACILITIES
Specialized Restoration Services for Specialized Facilities
For an industrial facility, any amount of downtime will impact every stakeholder - from the employees to the end-user. That's why Cotton Global Disaster Solutions responds rapidly to your emergency and provides disaster restoration services and solutions that get you back in business fast.
Whether it be a manufacturing facility or a warehouse that stores heavy equipment and chemicals, industrial properties are at high risk of dangers such as fires, chemical spills, and water damage. With 25 years of experience and state-of-the-art equipment, Cotton GDS's certified and experienced disaster restoration and recovery professionals can restore these damages while following the strict safety protocols and guidelines set forth by local, state, and federal regulatory agencies.
For immediate help with industrial facility restoration, CALL 877.511.2962
Our industrial restoration services
From initial project assessment and planning through catastrophe management, restoration, and reconstruction, Cotton GDS can be counted on to restore your property. No matter the type of disaster or level of damage, know that your business is in the hands of one of the top leading partners in the commercial restoration industry.
Industrial facilities We Serve
Distribution Warehouses
R&D Centers
Truck Terminals
Manufacturing Buildings
Refrigeration
Cold Storage Buildings
Data Centers
Flex Buildings
Industrial Plants
General Purpose Factories
Chemical Refineries
Oil Fields
Power Plants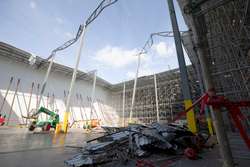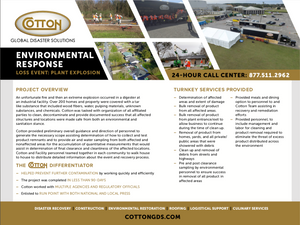 An devastating fire, followed by an extreme explosion, occurred in a digester at an industrial facility. As a result, over 200 homes and properties became covered in a tar-like substance, which contained wood fibers, water, pulping materials, unknown substances, and chemicals. Cotton was tasked with the organization of affiliated parties in the cleaning and decontamination process, as well as providing proper documentation, proving all affected structures and locations were made safe, from both an environmental and sanitation stance.
FREQUENTLY ASKED INDUSTRIAL RESTORATION QUESTIONS
+ HOW IS COTTON GDS DIFFERENT FROM OTHER INDUSTRIAL RESTORATION COMPANIES? 
Cotton GDS goes above and beyond to restore operations for clients whose businesses have been impacted by a disaster. With turnkey solutions offering restoration, logistical, and catering support, Cotton GDS allows companies to continue their operations while their facilities are being repaired. Cotton GDS also makes safety a priority. In addition to the guidelines set by local officials and national agencies, Cotton GDS has set its own set of safety standards to protect its team and yours.
+ WHAT IS COTTON GDS' EXPERIENCE WITH INDUSTRIAL FACILITIES?
Since 1996, Cotton GDS has offered industrial facilities of all sizes and specialties with construction, roofing, and restoration services. Its team of experts and state-of-the-art equipment have allowed Cotton GDS to restore warehouses and industrial properties for oil & gas, manufacturing, and chemical companies.
+ HOW FAST CAN COTTON GDS RESPOND TO AN EMERGENCY AT YOUR INDUSTRIAL FACILITY?
After your initial call to the 24/7 hotline, a Cotton GDS representative will reach out to you within 15 minutes to schedule a site assessment. With teams of first responders strategically placed throughout the U.S., Mexico, and the Caribbean, Cotton GDS can quickly deploy assets and be at your facility within hours.