Leaders in healthcare restoration services
Healthcare facilities are critical to a community, especially in the wake of a large catastrophic event. Cotton Global Disaster Solutions understands that priority response and expert restoration services are imperative to limit interruptions in patient care facilities.
Cotton GDS is qualified to respond to emergencies in delicate environments, where blood borne pathogens and biohazardous materials may be present, and uses approved equipment and strategies that safeguard against cross-contamination. Healthcare providers across the country trust Cotton to keep their patients and staff safe during any type of restoration or construction project.
Cotton GDS is in compliance with all local, state, and federal regulations. The company complies with OSHA standards and meets the NFPA's Life Safety Code (LSC) on all projects. The Joint Commission on Accreditation of Healthcare Organizations (JCAHO) has the regulatory oversight.
Our healthcare restoration services
After 25 years of providing restoration services to healthcare facilities in Texas, Cotton understands the unique requirements of the industry. Whether you're a hospital supervisor needing assistance with the development of a minor project or a third-party firm executing a large emergency project, Cotton Medical is here to assist.
Commercial facilities We Serve
Hospitals
Urgent Care Centers
Doctor's Offices
Specialty Medical Facilities
Pediatric Care Offices
Outpatient Surgical Facilities
Birth Centers
Blood Banks
Specialized Clinics
Dialysis Centers
Hospice Homes
Radiology Centers
Dental Offices
Nursing Homes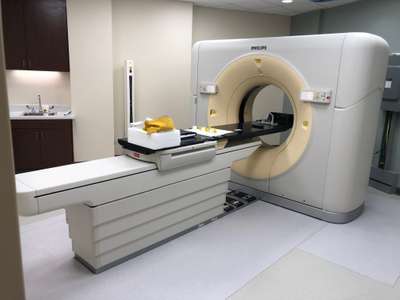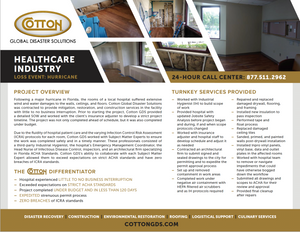 Following a major hurricane in Florida, the rooms of a local hospital suffered extensive wind and water damages to the walls, ceilings, and floors. Cotton Global Disaster Solutions was contracted to provide mitigation, restoration, and construction services in the facility with little to no business interruption. The project was not only completed ahead of schedule, but it was also completed under budget.
FREQUENTLY ASKED HEALTHCARE RESTORATION QUESTIONS
+ How is cotton gds from other healthcare restoration companies? 
As a leader in healthcare property restoration, CottonGDS understands that no two facilities are the same and will customize a disaster response plan that meets the particular needs of your medical or healthcare facility. You can rest assured knowing that Cotton GDS understands and complies with all federal, state, and local regulations that keep your patients and staff safe.
+ What is our experience working with the healthcare industry in the past?
Utilizing turnkey solutions, Cotton GDS has significantly reduced disruptions to the flow and operations of hospitals, clinics, assisted living facilities, and other healthcare facilities for 25 years. Whether cleaning up after a water event, restoring the building after a hurricane, or sanitizing a contaminated room, Cotton GDS rapidly completes the task without putting your people in danger.
+ How fast can cotton gds respond to an emergency at your healthcare facility?
Cotton GDS is committed to being there for your healthcare facilities 24/7. Its strategically-placed field offices, pre-loaded fleets, and relationships with first responders around the world allow Cotton GDS to respond to disaster events quickly and efficiently.
Other Industries We Serve
Education

Government

Industrial

General Contractors

Retail

Property Management

Transportation

Financial Services

Energy Facilities & Power Plants