DAMAGE RESTORATION & REPAIR FOR RETAIL STORES
RETAIL DISASTER RESTORATION & RECONSTRUCTION
Communities depend on retail stores and facilities to provide the essentials, and the need for these businesses increases following a community-wide disaster. Cotton Global Disaster Solutions works with some of the largest retail companies, with locations worldwide, to repair and restore their facilities so they can get back to serving their communities as soon as possible.
From massive distribution centers that house thousands of products to neighborhood grocery stores, Cotton GDS is adept at securing the property and its contents. Professionals trained in content restoration will safely pack-out content, store, clean, and restock merchandise and equipment once the affected facility is ready to reopen. Each stakeholder will also receive thorough documentation of all the restoration services provided for a more efficient claims cycle.
No two retail companies are the same, but with Cotton GDS's decades of experience in retail damage restoration and repair, owners and managers know their facility and products are in good hands.
For immediate help with retail restoration, CALL 877.511.2962
Our retail restoration services
Retail facilities We Serve
Shopping Malls
Lifestyle Centers
Factory Outlets
Grocery Stores
Specialty Shops
Department Stores
Drugstores
Big-box Stores
Convenience Retailers
Retail Distribution Centers
E-commerce Facilities
Urban Retail Stores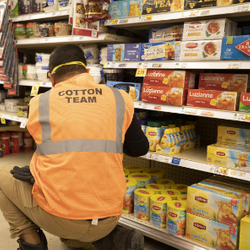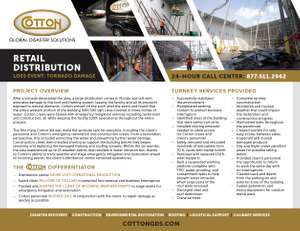 After a large retail distribution center in Florida was devastated by a tornado, Cotton was tasked with repairing the damaged roof and framing system, all while keeping the facility safe and 100% operational throughout the entire process.
FREQUENTLY ASKED RETAIL RESTORATION QUESTIONS
+ How is Cotton GDS different from other retail restoration companies?
Cotton GDS offers retail clients 24/7 monitoring of their facilities to warn them of impending dangers. Cotton GDS is stationed and ready to respond before a forecasted disaster strikes, allowing for a rapid start to recovery. Once the restoration process has begun, Cotton GDS works around the clock and keeps clients and their insurance company updated with progress photos and necessary documentation.
+ What is our experience working with the retail industry in the past?
Cotton GDS specializes in repairing commercial facilities with little to no business interruption. From large community malls to small businesses, Cotton GDS has the experience and tools needed to swiftly get retail businesses back up and running. Trained crews have extracted water from flooded malls, boarded up shattered glass in drug stores, repaired entire roofs in busy hardware stores, and more.
+ How fast can Cotton GDS respond to an emergency at your retail facility?
When a disaster is forecasted to impact a community, Cotton GDS mobilizes its crews and equipment to nearby sites before disaster strikes. This allows for a quick response to your location following the impact. Cotton GDS can arrive at your facility within hours from your initial call once the danger has passed.