COMMERCIAL WATER EXTRACTION & REMOVAL
Long-Term Effects of Water Damage TO YOUR BUSINESS
If your commercial property has experienced water damage from a flash flood, burst pipe, a fire sprinkler system, or any other source, it's important to extract and remove the water as quickly as possible. Delaying water extraction, water removal, drying, and dehumidification could cause permanent damage to your commercial facility and threaten the well-being of your employees.
In the case of an unexpected event, we provide emergency water removal services to help keep you, your employees, and your commercial business safe.
For immediate help with water extraction and removal, CALL (877) 511-2962.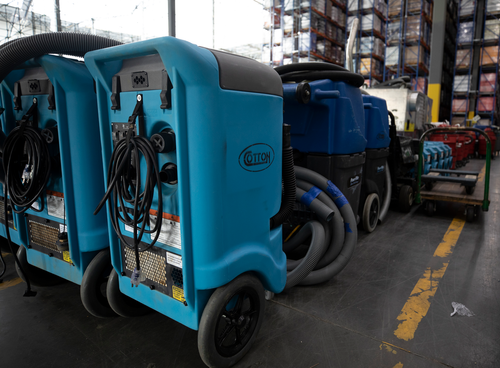 THE COTTON DIFFERENCE
24/7 Situational Awareness.

Pre-loaded fleet for immediate dispatch.

Trusted global partner in restoration, disaster recovery, and construction.

Adhere to OSHA standards, along with local, state, and federal regulations.

Commercial-grade equipment and innovative thinking.
Cotton Global Disaster Solutions understands the importance of having the water removed fast, which is why we're available to you 24/7, year-round. Our trained professionals will help you extract the water as soon as possible and restore your building back to pre-event conditions.
Water Extraction & Clean-Up Experts
Contacting a professional water extraction service immediately after the incident will ensure that the proper equipment and techniques are used for a quick and safe recovery. It's not just removing the water, moisture created by the incident could later lead to long-term damage within your facility. The sooner you call Cotton GDS, the higher chance we have of:
Preventing microbial growth

Avoiding permanent damage to the building's structure

Minimizing operational downtime
Upon arriving at the scene, Cotton GDS's team of experts will assess the damage and deliver a plan of action to eliminate further damage. After removing the water and drying the property, Cotton GDS can begin construction services and rebuild your facilities to get them back up and operating. Cotton GDS offers other commercial water damage services, including climate stabilization, content and document drying, and moisture mapping.
Frequently Asked Questions
+ Why is it important to handle water damage with water extraction immediately?
Standing water inside of your property poses a great threat to your building's infrastructure, flooring, and your workers' health. Mildew and mold can grow over time and can cause respiratory issues, as well as damage to your walls and ceiling tiles. Not taking care of the water damage immediately can result in collapsed walls and costly repairs further down the line.
+ How long is the water extraction & removal process?
The water extraction process will vary depending on the size of the property, the amount of excess water, and other factors. Cotton GDS is available 24/7 and will quickly send a project manager to assess the damage and provide a timeline for water mitigation and restoration services.
+ What should I do if my business is flooded?
If your business is flooded, please make sure the gas and electricity are shut off before entering the property. Once the area is safe, collect your personal belongings so that water extraction experts can come in and remove the water from your building.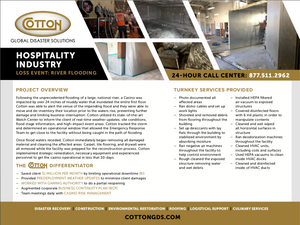 A Casino became inundated with over 24 inches of water following the flooding of a large national river. Once flood waters receded, Cotton GDS implemented strategic remediation efforts to quickly remove the water, clean up the damage, and get the client operational in less than 30 days.