ODOR REMOVAL & DEODORIZATION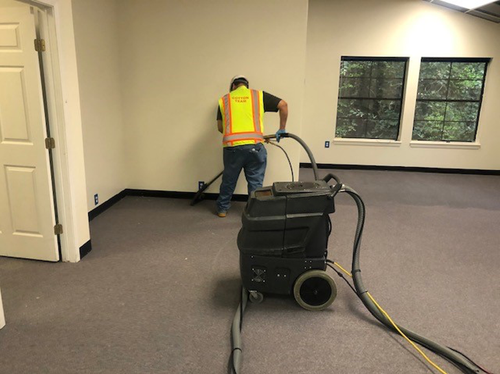 Eliminate Unwanted Odors With Cotton GDS
The aftermath of a disaster can consist of more than shattered windows and physical damage to your facility. The smell of debris, water, mildew, smoke, or biohazard incidents can linger long after they've been removed, creating an uncomfortable environment for your workforce, guests, or tenants.
To effectively and efficiently eliminate unwelcomed odors, having a trusted remediation partner helps. Cotton Global Disaster Solutions has twenty five years of experience in odor removal and deodorization following water, fire, and natural or man-made environmental response events.
If your business needs immediate odor removal, CALL (877) 511-2962.
THE COTTON DIFFERENCE
24/7 Situational Awareness.
Pre-loaded fleet for immediate dispatch.
Trusted global partner in restoration, disaster recovery, and construction.
Adhere to OSHA standards, along with local, state, and federal regulations.
Commercial-grade equipment and innovative thinking.
Cotton GDS specializes in delivering superior service at efficient speeds so clients can get back to operating as usual. To achieve this goal, crews rapidly respond to calls and will work around the clock until the job is complete.
Efficient and Effective Odor Removal Service
Deodorization is a common service that is required after different types of disasters, especially those involving fire, water, and biohazards. After twenty five years of helping business owners recover their property following damaging events, Cotton GDS has the skills and tools needed to eliminate smoke and musty odors from your facility. The odor removal process consists of:
Conduct an analysis of the damage and source of the smell
Determine the best plan of action and necessary tools to remove the source and odor
Clean the affected area and begin deodorization process
Cotton GDS uses state-of-the-art air scrubbers with charcoal filters to scrub the air of odor-causing particles. Trained technicians also use HEPA vacuums and approved chemicals to eliminate the source of the smell and stabilize the environment.
Frequently Asked Questions
+ How do I get rid of bad smells in my office building or commercial property?
When it comes to deodorizing your commercial property, hiring a professional remediation team is recommended. Cotton GDS can efficiently remove odors using air scrubbers with HEPA filters that trap 99.97% of particles that are 0.3 microns. If the source hasn't been removed, Cotton GDS will use HEPA vacuums and approved chemicals to properly clean and remove the odor-causing source.
+ How long is the deodorization process?
Cotton GDS is committed to limiting business interruption as much as possible. While the timeframe for the deodorization process varies depending on the source of the odor and square footage of the affected area, Cotton GDS will immediately respond to your call and perform an assessment of the situation. You will then receive an accurate timeline and quote for the project based on the assessment.
+ Should I call my insurance first for odor removal services?
Insurance companies want you to be proactive when it comes to restoring your commercial property. Cotton GDS recommends getting a professional team on-site first to remove the source of the odor and begin the deodorization process.