Dedicated to Restoring Damaged Residential Properties
Owners of a residential property know that the safety of their tenants is a big responsibility. Unfortunately, you can't control when disaster strikes, which can come in various ways. Whether it be fire at a tenant's home, a pipe burst, or severe weather, disasters can occur at any moment.
Here at Cotton Global Disaster Solutions, our team responds quickly to your emergency and will restore your property to its original state with little to no disruption. With 25 years of experience, our restoration specialists utilize state-of-the-art equipment and follow strict safety protocols to ensure your property continues being a safe and comfortable place for those who reside in it.
Our Multifamily Restoration Services
You can count on Cotton GDS to provide the utmost service when it comes to multifamily restoration. From a rapid initial response to around-the-clock care, your designated Cotton GDS team is dedicated to providing the best level of service through every phase of the project.
Multifamily facilities We Serve
Apartments
Student housing
Condominiums
Town homes
Independent senior living
Mixed-Use Developments
High-Rise Buildings
Mid-Rise Buildings
Manufactured Housing
Military Housing
Subsidized Housing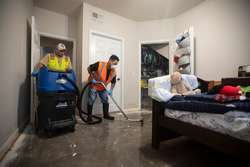 FREQUENTLY ASKED MULTIFAMILY RESTORATION QUESTIONS
+ HOW IS COTTON GDS DIFFERENT FROM OTHER MULTIFAMILY RESTORATION COMPANIES? 
Cotton GDS takes pride in being there for our clients whenever they need us. With 24/7 availability and turnkey solutions, including restoration, construction, and roofing, Cotton GDS minimizes business interruption and gets companies back up and running fast.
+ WHAT IS COTTON GDS'S EXPERIENCE WITH MULTIFAMILY FACILITIES?
For 25 years, Cotton GDS has supported multifamily properties with unparalleled restoration, construction, and roofing services. When it comes to restoring your tenants' homes and communal areas, Cotton GDS understands that time is of the essence. Equipped with state-of-the-art tools for the job, you can count on us to quickly take care of your property.
+ HOW FAST CAN COTTON GDS RESPOND TO AN EMERGENCY AT YOUR MULTIFAMILY FACILITY?
With teams and assets strategically located throughout the country, expect a rapid, same-day response. Once Cotton GDS receives your initial call, a trusted project coordinator will be assigned to your case and will respond immediately.
Other Industries We Serve
Property Management

Retail

General Contractors

Government

Healthcare

Education

Hospitality

Financial Services

Energy Facilities & Power Plants