COVID DISINFECTING & CLEANING SERVICE
Provide a clean space for productivity and collaboration
Whether you want to maintain a clean working environment for your valued employees and guests, disinfect from covid, or need to clear and sanitize your property following a disaster, Cotton Global Disaster Solutions can help with premium commercial cleaning and disinfecting services.
Cotton GDS offers businesses peace of mind with safe and effective cleaning products and proven techniques. With twenty five years in the restoration and commercial cleaning industries, crews seamlessly transition between cleaning and restoration services.
To inquire about commercial cleaning services for your business, CALL (877) 511-2962.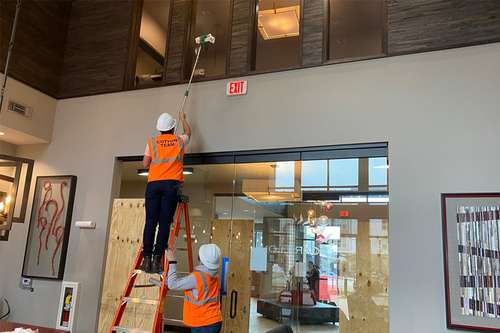 THE COTTON DIFFERENCE
24/7 Situational Awareness.
Pre-loaded fleet for immediate dispatch.
Trusted global partner in restoration, disaster recovery, and construction.
Adhere to OSHA standards, along with local, state, and federal regulations.
Commercial-grade equipment and innovative thinking.
Commercial cleaning experts for every industry
Cotton GDS has experience providing cleaning services for a wide range of industries, including healthcare, hospitality, manufacturing, and retail. From vertical and horizontal surface cleaning to debris removal and even forensics and biohazard cleanup, you can count on Cotton GDS to deliver quality services with minimal business interruptions.
If your property has suffered damages due to a hurricane, tornado, earthquake, or fire incident, debris removal and thorough cleaning of your building and FF&E will be necessary to restore your facility. These services may also be required during construction and renovation projects when dust and building materials consume your space. Commercial cleaning services include the following:
Biohazard
Carpet and Upholstery
Ceilings, Floors, and Walls
Debris Removal
Drapes and Blinds
Sewage Backup
Trauma and Crime Scene
Vandalism
Guidance for Bed Bug Prevention & Treatment
Frequently Asked Questions
+ Does Cotton GDS offer routine cleaning services for office buildings and commercial properties? 
Cotton GDS specializes in commercial cleaning services following a disaster event or construction project. While we don't currently offer day-to-day cleaning services, our specialty services provide a deep cleaning that helps restore your property to its pre-event state quickly and effectively.
+ What type of clients does Cotton GDS serve?
Cotton GDS serves all types of commercial facilities, such as small offices, large office buildings, hotels/resorts, schools, hospitals, assisted living communities, government buildings, retail stores, petrochemical plants, manufacturing facilities, and warehouses.
+ Can Cotton GDS also sanitize my building to prevent or eliminate COVID-19 or other viruses?
Whether you need confirmed COVID-19/coronavirus case disinfection or precautionary cleaning, Cotton GDS can provide the necessary services, defined by your preferred Industrial Hygienist. We work swiftly and confidently because we've seen and been through large-scale health emergencies and biohazard disasters before, including H1N1 (Swine Flu), Avian Influenza, SARS, and other HAZMAT response scenarios.