EDUCATIONAL FACILITIES DAMAGE RESTORATION
Restoring the Facilities That Shape Our Future
From a small, private Montessori school to a large university campus, Cotton Global Disaster Solutions understands how valuable a school or educational facility is to the community in which it is located. Damages to the campus, whether caused by a catastrophic disaster or typical wear and tear, could delay class schedules and reduce the capacity for staff and students. Cotton GDS is equipped with professional knowledge, experience, and resources to swiftly restore the campus to pre-loss condition and put students back in the classrooms. In addition to damage restoration and repair, Cotton GDS also specializes in helping campuses with construction needs during renovation or expansion projects.
For immediate help with education facility restoration, CALL 877.511.2962
Our education restoration services
Since its inception, Cotton GDS has been instrumental in the restoration of schools, colleges, and universities across the country following property damage. With a clear understanding of the industry's unique requirements, Cotton GDS is both efficient and effective when providing solutions for fire damage, water damage, and catastrophic events.
Education facilities We Serve
Preschool and Nursery Schools
Elementary and Middle Schools
High School and Academies
College and Universities
Community Colleges
Gymnasium, Sports Complex and Stadiums
Libraries
Private Learning Centers
Boarding & Preparatory Schools
Technical Colleges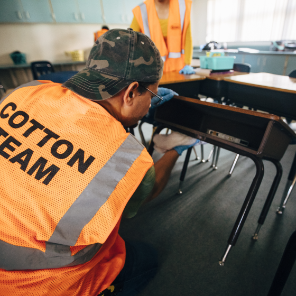 FREQUENTLY ASKED Education RESTORATION QUESTIONS
+ How is Cotton GDS different from other education restoration companies?
For the past 25 years, Cotton GDS has repaired and restored classrooms and campus facilities for universities, community colleges, and community-based schools following natural disasters and man-made damages. With the ability to customize solutions for each client, Cotton GDS delivers rapid service that allows schools to promptly resume their classes and operations.
+ What is our experience working with the education industry in the past?
For decades, Cotton GDS has helped several communities rebuild their schools following major hurricanes, tornadoes, and other natural disasters. The team has also recently helped a state school repair fire and smoke damages caused by an accidental fire in one of their large facilities. No matter the cause, you can rest assured Cotton GDS has the experience and tools necessary to restore your school to its pre-event state or better.
+ How fast can Cotton GDS respond to an emergency at your education facility?
Cotton GDS is committed to being there for your education facilities 24/7. Its strategically-placed field offices, pre-loaded fleets, and relationships with first responders around the world allow Cotton GDS to respond to disaster events quickly and efficiently.