CONTENT RESTORATION & PACK-OUT SERVICES
Secure & Cost-Effective Pack-Out Services
Following a fire, flood, or weather-related disaster, your company's contents can experience damages due to soot or water. Important contents may include documents, merchandise, electronics, FF&E, and other items you deem valuable to your business operations. When it comes to restoring your contents, time is of the essence. The sooner each item is packed out, stored in a safe location, and cleaned, the better chance it has of being restored to its original state.
With twenty five years in the industry, Cotton GDS has the experience and resources necessary to deliver efficient content restoration and pack-out services in a safe, air-conditioned facility.
For immediate help following fire or water damage, CALL (877) 511-2962.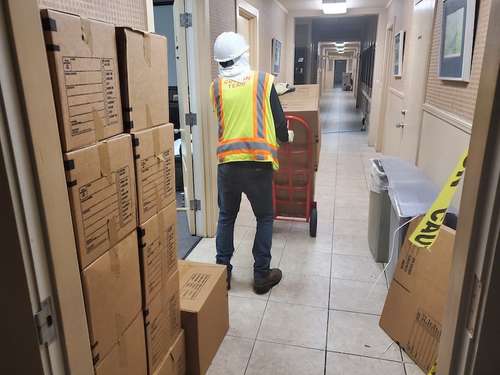 THE COTTON DIFFERENCE
24/7 Situational Awareness.
Pre-loaded fleet for immediate dispatch.
Trusted global partner in restoration, disaster recovery, and construction.
Adhere to OSHA standards, along with local, state, and federal regulations.
Commercial-grade equipment and innovative thinking.
Cotton GDS understands that returning to normalcy is the top priority. As you focus on getting your operations up and running, trust Cotton GDS to do the heavy lifting of restoring your property and contents.
Your Contents & Valuables Are Safe With Cotton GDS
Before beginning the pack-out services, Cotton GDS works directly with clients to assess which items need to be restored and which can be discarded. Once the selection has been made, crews will begin carefully packing up your contents for storage in a safe, air-conditioned facility. You will be provided with a copy of the inventory items for your records.
While at the storage facility, Cotton GDS will clean and deodorize each item, restoring them to their original state. Throughout the entire process, crews will carefully and precisely document the restoration of the content for insurance purposes.
Once all contents have been restored and it is safe to do so, Cotton GDS will return the items to your business location.
Frequently Asked Questions
+ What is considered as "contents" in content cleaning from fire damage?
The term "contents" generally refers to anything within the commercial property that can be relocated to another part of the business or offsite. Contents may include FF&E, artwork, personal belongings, electronic devices, business materials, equipment, and other valuables.
+ Will any cleaning be done to the damaged contents before packing and moving them?
Some items may need to be pre-treated before packing to remove moisture or corrosive smoke residue. Those that don't require treatment before packing will be cleaned at a safe, Cotton GDS restoration center.
+ What if some of my contents are damaged as a result of the disaster?
Cotton GDS will always do its best to restore your contents to their pre-disaster condition, but there are cases where this is not possible. In the event your item(s) cannot be restored, Cotton GDS will provide you with a non-restorable list for your insurance provider.