Disaster Restoration In The Texas Medical Center
HEALTHCARE DISASTER DAMAGE RESPONSE & RESTORATION IN THE TEXAS MEDICAL CENTER
OUR COTTON MEDICAL OFFICE IS LOCATED AT
8311 Knight Rd
Houston, TX 77054
877.900.0493
7 minutes from The University of Texas MD Anderson Cancer Center

9 minutes from Houston Methodist Hospital

10 minutes from Memorial Hermann - Texas Medical Center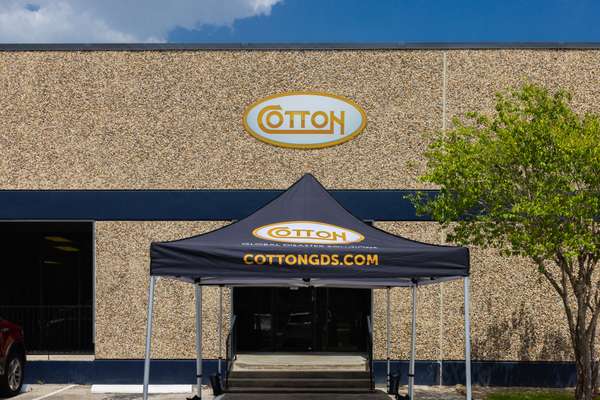 ACCOMPLISH YOUR PROJECT GOALS WITH COTTON MEDICAL
From minor projects to emergency services, Cotton Medical has the resources your team needs to carry out a project from the development of a business case to construction implementation. Our experts work alongside your team to accomplish one or all phases of a project's development. Cotton Medical can assist your organization with:
Preparing a Project Business Case
Defining a Scope of Work
Developing an Executive Project Presentation
Contract Mediation Assistance
State and Local Mediation
Project Construction Implementation
Department Move-In Upon Project Completion
For more information on Cotton Medical Resource Solutions, contact your Cotton Representative today, or call our 24/7 hotline for immediate assistance.
PROJECT DEVELOPMENT ASSISTANCE INCLUDES:
BUSINESS CASE
Program Management
Project Logistics
Feasibility Studies
Design Management
Cost Analysis
EMERGENCY RESPONSE
Water Leaks
Storm Damage
Fires
Disaster Recovery
Structural Repairs
Construction
CONSTRUCTION
Existing Facility Due Diligence
Site Assessments
Building Assessments
Commission Management
Construction Auditing
Occupancy Planning
ENVIRONMENTAL SERVICES
ICRA Compliant
Terminal Cleaning
Stripping of Floors
Construction Cleaning
Mold Remediation
ACM Removal
BACKED BY DECADES OF EXPERIENCE
After over 25 years of providing restoration services to healthcare facilities in Texas, Cotton understands the unique requirements of the industry. Whether you're a hospital supervisor needing assistance with the development of a minor project or a third-party firm executing a large emergency project, Cotton Medical is here to assist.
COTTON'S CORE COMPETENCIES
Process Improvement
Value Engineering Assistance
Assist in All Aspects of a Project Delivery Model
Help Develop Presentation for Clients' Executive Team
Manage and Recover Projects That Have Strayed From the Budget or Schedule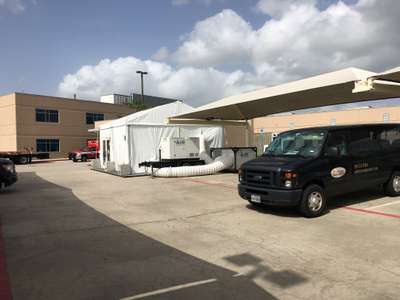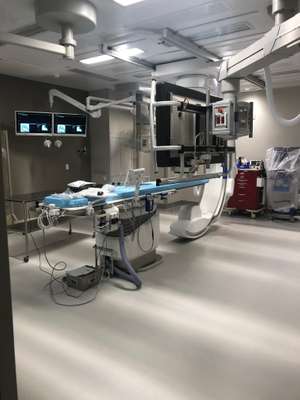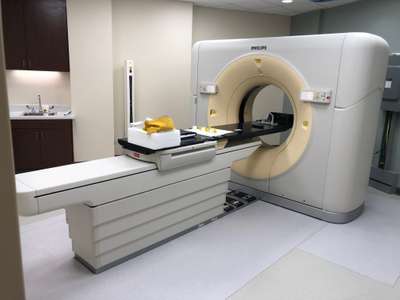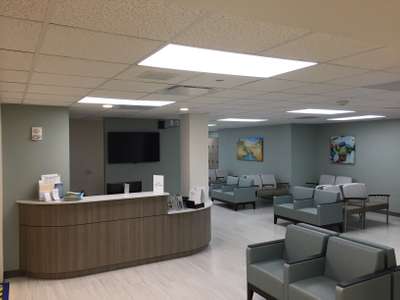 TRUST COTTON WITH PROPERTY PRESERVATION & RESTORATION
Cotton is a full-service company with decades of experience in medical environments, commercial restoration, and construction. Whether you're looking to expand a facility, remodel an existing structure, or need repairs due to property damage or loss, Cotton has the resources, expertise, and skills needed to help.
ADDITIONAL SERVICES INCLUDE:
24-Hour Emergency Service
Water Damage Restoration
Fire Damage Restoration
Disaster Recovery
HVAC Cleaning & Decontamination
Emergency Power
Rapid Response & Mobilization
Commercial-Grade Equipment
General Construction
Interior Build-Out
Capital Improvements
ADA Compliance
Structural Repairs
Mechanical, Electrical, & Plumbing
Temporary Shoring
Roofing Assessment & Replacement
Mold Remediation
Asbestos Abatement
Lead Remediation
Biohazard Cleaning
Laboratory Cleanup
Hazardous Material Decontamination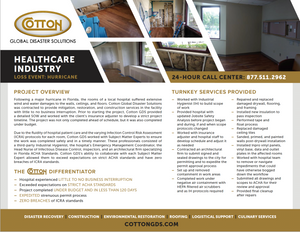 Following a major hurricane, the rooms of a local hospital suffered extensive wind and water damages to the walls, ceilings, and floors. Cotton Global Disaster Solutions was contracted to provide mitigation, restoration, and construction services in the facility with little to no business interruption. The project was not only completed ahead of schedule, but it was also completed under budget.