COMMERCIAL AIR DUCT & HVAC CLEANING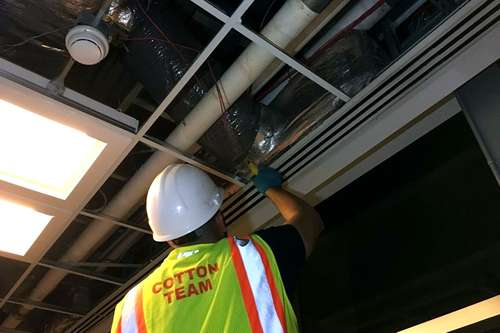 The Importance of a Clean HVAC System
Clean air ducts and a well-maintained HVAC system are essential to your daily operations. With clean and decontaminated air circulating throughout your facility, your workers remain comfortable, healthy, and productive. So if your property has suffered fire damage, water damage, or it's been a while since you last had it serviced, it's time to get your HVAC system checked and cleaned by a professional.
Cotton Global Disaster Solutions utilizes state-of-the-art technology to effectively inspect and clean your HVAC system. Available 24/7, Cotton GDS works around your schedule to reduce business interruption during the cleaning and decontamination process.
For immediate HVAC and air duct cleaning, CALL (877) 511-2962.
THE COTTON DIFFERENCE
24/7 Situational Awareness.
Pre-loaded fleet for immediate dispatch.
Trusted global partner in restoration, disaster recovery, and construction.
Adhere to OSHA standards, along with local, state, and federal regulations.
Commercial-grade equipment and innovative thinking.
Customized and Effective Solutions for HVAC Decontamination
Cotton GDS knows that not every air duct cleaning or HVAC decontamination service is going to be the same. Using special cameras and technology, Cotton GDS is able to inspect the air ducts and assess whether your system needs mold remediation, soot removal, or basic annual maintenance.
The HVAC and air duct cleaning process typically includes:
An initial inspection and assessment of the HVAC unit to determine scope of work.
Professional cleaning of air ducts, air filters, ventilators, registers, and roof fans.
If needed, Cotton GDS will also complete mold remediation and deodorization to remove odors and microbial growth.
Decontamination of HVAC system for premium air quality.
Before and after photos that document the process.
Frequently Asked Questions
+ How often should I have the air ducts in my building cleaned?
Cotton GDS recommends you have your HVAC system inspected annually for cleanliness and your supply and return air ducts every two years. If a visible inspection shows that there's a high level of build up in the air ducts or that particulate matter is being discharged from the vents, then an immediate cleaning of the air duct system is recommended as these particles could decrease air quality.
+ How do you confirm that your HVAC system was cleaned properly?
To best confirm whether or not your contractor has cleaned your HVAC system properly, they'll need to perform a visual inspection of your system before the service begins and after it was completed. Cotton GDS provides clients with photo documentation along the life of a project so they know they're getting the best service.
+ Do I need to close my business while the air ducts are getting cleaned?
It is not necessary to stop operations or close your business during air duct cleaning. Cotton GDS will meet with your facility's point of contact before starting the cleaning process and will customize a plan that works with your business's schedule.