CONSTRUCTION PROJECT RESTORATION
MINIMIZE DELAYS IN PROJECTS WITH COTTON
With decades of experience partnering with commercial construction companies as well as general contractors, Cotton Global Disaster Solutions understands the unique position of construction projects. Subject to numerous risks from water and fire damage while also at risk of mold and hazardous waste damage depending on the project, construction projects risk costly delays and interruptions. Cotton GDS prides itself in its ability to create strong, lasting partnerships that can help construction companies and general contractors stick to their project timelines while reducing project interruption time. We are proud to provide damage restoration on construction sites, bringing your project back up to speed as quickly and efficiently as possible.
Cotton GDS's staff of experienced and skilled professionals, along with quality equipment, allows us to provide turnkey solutions for commercial construction companies and general contractors whose projects have been damaged by disaster events. Our expertise allows us to work efficiently, effectively, and quickly through various restoration methods and situations, supporting the recovery of your construction projects.
For immediate help with general contractors restoration, CALL 877.511.2962
Our construction & general contractors restoration services
No matter the type of event, Cotton GDS is well equipped to help commercial construction companies and general contractors whose projects experience a natural or man-made disaster. With decades of experience and a high level of expertise in an extensive range of restoration methods, Cotton GDS can make sure your project interruption time is reduced as we take you from an initial assessment through catastrophe management planning, restoration, and reconstruction.
General Contracting & Construction Projects We Serve
HVAC & Ductwork
Electrical
Plumbing
Roofing
Demolition
Masonry
Landscaping
Tile Setting
Carpenting
Concrete Work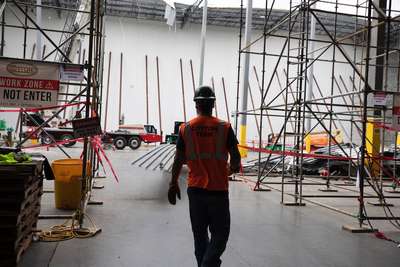 FREQUENTLY ASKED CONSTRUCTION & GENERAL CONTRACTORS RESTORATION QUESTIONS
+ How is Cotton GDS different from other construction & general contractor restoration companies?
With our deep well of knowledge - the product of 25 years of experience in the industry - Cotton GDS is uniquely experienced in helping commercial construction companies and general contractors during disaster events. Our experience in water, fire, mold, and hazardous waste damage remediation, combined with our expert staff and state-of-the-art equipment, allows us to work quickly, efficiently, and effectively to reduce project interruption time.
+ What is our experience working with construction companies & general contractors?
Cotton GDS has held close partnerships with a number of construction companies and individual contractors for 25 years. We have led efforts to mitigate and clean up damage from water, fire, mold, hazardous waste, and other forms of contamination thanks to our high level of skill and expertise. Combined with our state-of-the-art equipment, Cotton GDS has built close working relationships with clients that result in plans that limit project disruption time and allow you to follow an established timeline.
+ How fast can Cotton GDS respond to an emergency at your commercial project?
Cotton GDS is committed to always being there for your project - no matter the day or time. Our team of first responders and equipment are available 24/7 and can respond to a disaster quickly and efficiently.
CONTACT us for CONSTRUCTION & GENERAL CONTRACTOR restoration and business solutions TODAY.