EARTHQUAKE & MUDSLIDE DAMAGE RESTORATION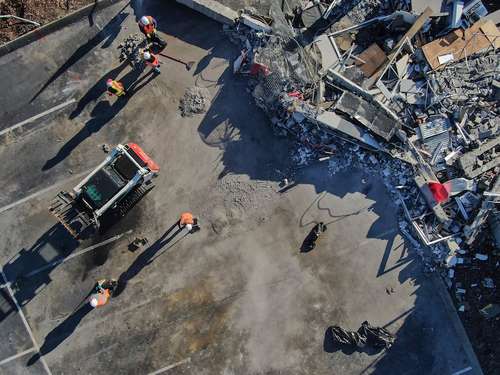 COTTON GDS, TRUSTED IN EARTHQUAKE & MUDSLIDE RECOVERY
Unlike most natural disasters, earthquakes and mudslides are unpredictable and there is no earthquake season to prepare for. As a business owner or property manager, you should always have an emergency plan in place should a disaster of this nature occur.
Earthquake and mudslide damage could consist of collapsed walls, damaged contents, and environmental hazards, which could require you to stop operating until your property is once again safe for your workforce. Cotton Global Disaster Solutions is specialized in rapid damage restoration and disaster recovery that gets your property back to its pre-event state and minimizes operational downtime.
For emergency disaster recovery, CALL (877) 511-2962.
THE COTTON DIFFERENCE
24/7 Situational Awareness.

Pre-loaded fleet for immediate dispatch.

Trusted global partner in restoration, disaster recovery, and construction.

Adhere to OSHA standards, along with local, state, and federal regulations.

Commercial-grade equipment and innovative thinking.
For 25 years, Cotton GDS has helped businesses around the world recover from catastrophic events. With an extensive footprint and 24-hour availability, crews rapidly respond to disasters with commercial-grade resources and work around the clock to limit business interruption.
EXPERT EARTHQUAKE AND MUDSLIDE CLEANUP & RESTORATION
Depending on its magnitude, an earthquake can collapse your property's walls, crack the foundation, rupture water/gas pipes, and ruin electrical wiring. Mudslides could result in similar damages, plus introduce contaminants that create hazardous conditions. Cotton GDS offers the following services for earthquake recovery and mudslide restoration:
Restoration SERVICES
Catastrophe Management
Content Cleaning, Manipulation, and Inventory
Mudslide Cleanup and Disinfection
Deodorization
Debris Removal
Structure Cleaning
CONSTRUCTION SERVICES
Emergency Board-Up
Heavy or Selective Demolition
Interior Build-Out
Plumbing and Electrical Work
Exterior Building Envelope
Frequently Asked Questions
+ HOW FAST CAN COTTON GDS RESPOND TO EARTHQUAKE OR MUDSLIDE DAMAGE AT A COMMERCIAL PROPERTY?
Cotton GDS is available 24/7 and is always ready to respond with crews and pre-loaded fleets. As soon as your call or request comes through, a Cotton Representative will reach out to begin the assessment. Once they have confirmed the details, the right crews and equipment will be sent to begin working on your business.
+ IF MY COMMERCIAL PROPERTY NEEDS EARTHQUAKE OR MUDSLIDE CLEANUP, SHOULD I CALL MY INSURANCE FIRST?
Cotton GDS recommends getting a professional restoration contractor on site as fast as possible to board up your property. Your insurance company wants you to be proactive when it comes to restoring your commercial property and delaying your call to a professional restoration contractor can cause more damage.
+ HOW LONG DOES THE DISASTER RECOVERY PROCESS TAKE AFTER AN EMERGENCY?
The recovery timeline varies depending on the severity and category of the damages. Your Cotton Representative will provide an accurate timeline after completing an assessment of the damage.