DISASTER RESTORATION FOR GOVERNMENT AGENCIES
A PARTNER TO THOSE THAT AID THE COMMUNITY
When a disaster strikes a region, citizens look to the public sector for assistance, but what happens when these very government agencies or facilities have also been damaged by floodwaters, communication outages, power outages, and other problems that can hinder response time? Government entities, such as disaster relief organizations, courthouses, and police departments are the backbone of their communities and are relied upon for critical services, shelter, and support after a disaster. Timing is of the essence when getting these facilities back up and running, and our emergency response team is ready to help 24/7.
Cotton Global Disaster Solutions has a proven track record of helping large-scale government agencies, as well as disaster relief organizations, repair their operations at lightning speed so they can get back to serving their citizens as quickly as possible.
For immediate help with government facility restoration, CALL 877.511.2962
OUR GOVERNMENT RESTORATION SERVICES
Cotton GDS understands the responsibility government agencies have to their constituents and knows how important it is for them to be there for their community during a crisis. That's why Cotton GDS works around the clock to restore government facilities as quickly as possible.
Government facilities We Serve
State & Local Agencies
Police & Fire Departments
Courthouses
Civil Services Buildings
Parks & Recreation Facilities
Military Housing
Military Bases
Federal Agency Buildings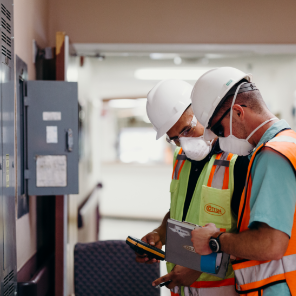 FREQUENTLY ASKED Education RESTORATION QUESTIONS
+ How is Cotton GDS different from other government restoration companies?
Cotton GDS's turnkey solutions set us apart from the competition. From around-the-clock restoration services to temporary facilities and catering, your team will have everything they need to continue serving the community, despite property loss or damage.
+ What is our experience working with the government industry in the past?
For 25 years, Cotton GDS has helped government agencies by repairing property damages, providing emergency power, and constructing large first responder camps following catastrophic disasters. We understand the need for confidentiality agreements and will work around the clock to secure the facilities that aid those in need.
+ How fast can Cotton GDS respond to an emergency at your government facility?
With offices throughout the United States, Mexico, and the Caribbean, Cotton GDS's team of first responders and equipment are available 24/7 and can respond to a disaster quickly and efficiently.