24 HOUR EMERGENCY BOARD UP SERVICES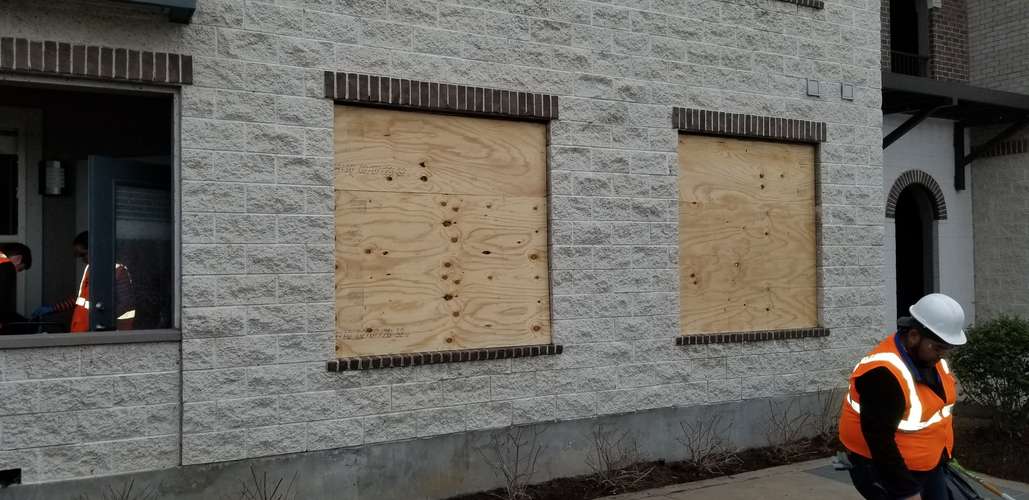 EMERGENCY PROPERTY BOARD-UP
Cotton Global Disaster Solutions understands the importance of keeping your facility and commercial assets protected at all times. Available 24 hours, Cotton GDS can send emergency crews to board up your property any time before a predicted natural disaster or damaging event occurs. Once the danger has passed, crews can once again immediately respond with emergency board-up services and roof tarping that keep your property and assets safe from rain, wind, animals, and theft.
Leaving your building exposed after a disaster makes it vulnerable to further damages and longer downtime. The sooner you call Cotton GDS, the better chance you have at protecting your company's valuable assets.
For immediate assistance with commercial board up services, CALL (877) 511-2962.
THE COTTON DIFFERENCE
24/7 Situational Awareness.
Pre-loaded fleet for immediate dispatch.
Trusted global partner in restoration, disaster recovery, and construction.
Adhere to OSHA standards, along with local, state, and federal regulations.
Commercial-grade equipment and innovative thinking.
PROTECT YOUR PROPERTY FROM RAIN, WIND, AND OTHER THREATS
Just like you would your home, commercial properties can be boarded up to prevent a storm's winds from breaking the windows or knocking down doors. Board-up services can also be helpful when a damaging event is anticipated in your city. A professional contractor, like Cotton GDS, can quickly identify what parts of your building need to be blocked off and install the proper protection over each.
Following a natural disaster or property vandalism, commercial properties can be left with collapsed roofs, walls, and broken windows. These types of damages, if not immediately dealt with, leave a business's valuable assets and documents exposed to weather and theft, resulting in a longer restoration timeline and downtime. If restoration and reconstruction can't immediately begin, Cotton GDS can start by boarding up all entryways and openings to decrease the chances of further property destruction.
Emergency board-up services include:
Assessment of your property after a loss event
Design a plan to begin board-up and roofing services in all exposed areas
When needed, Cotton GDS will make the site accessible to insurance adjusters (includes opening boarded up doorways)
Seamlessly transition into the reconstruction phase when the client is ready
In addition to boarding up your commercial property, Cotton GDS also has you covered with emergency roof tarping that keeps wind and water out until your roof can be repaired.
Frequently Asked Questions
+ DO I NEED TO BOARD UP THE WINDOWS IN MY COMMERCIAL BUILDING BEFORE A STORM?
If you know a hurricane or strong tropical storm is on the way, boarding up your windows and doors beforehand could protect your business from external and internal damages. If you're worried about an incoming storm, get in touch with Cotton GDS right away so we can seal up your building's vulnerabilities as soon as possible!
+ WHAT ARE THE BENEFITS OF BOARD-UP SERVICES AFTER property damages?
If your property has been damaged due to a disaster, the last thing you want is for weather, animals, or unauthorized people to enter and cause further damages. Board-up services will prevent unwarranted guests and inclement weather from driving up your repair costs. Protecting your property and assets will also help you get the best coverage for your insurance claim.
+ HOW FAST CAN COTTON GDS RESPOND TO AN EMERGENCY AT A COMMERCIAL PROPERTY?
Cotton GDS is committed to being there for your business 24/7. Its strategically-placed field offices, pre-loaded fleets, and relationships with first responders around the world allow Cotton GDS to respond to disaster events quickly and efficiently.