COMMERCIAL MOISTURE MAPPING
prevent future damages with moisture mapping
If your commercial property has experienced water damage of any kind, moisture mapping should be done immediately. Moisture mapping uses specific technology to detect the levels of moisture found in all areas of the affected property. Knowing the exact location and gravity of the water damage helps mitigation experts target all of the affected areas, which prevents future property damage. It is also important to perform a mold assessment after any water damage to keep you, your employees, and your business safe.
Cotton Global Disaster Solutions has twenty-five years of experience helping business owners recover from water damage caused by storms, plumbing, HVAC systems, and faulty water pipes.
For immediate help with water damage mitigation, CALL (877) 511-2962.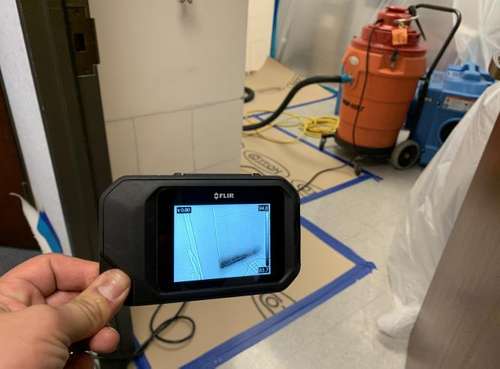 THE COTTON DIFFERENCE
24/7 Situational Awareness.

Pre-loaded fleet for immediate dispatch.

Trusted global partner in restoration, disaster recovery, and construction.

Adhere to OSHA standards, along with local, state, and federal regulations.

Commercial-grade equipment and innovative thinking.
Cotton GDS knows how important it is for your business to have a facility that is safe and structurally sound. Following a water loss, you can count on Cotton GDS to provide a team of trained technicians who can help with the water mitigation process and can minimize business interruption.
moisture mapping & damage assessment Experts
Water damage isn't always 100% visible. As water sits on your property, waiting to be removed, it could leak through the walls, the floorboards, and spaces invisible to the naked eye. To prevent future microbial growth and damage to your facility, the Cotton GDS experts will remove the excess water and moisture as soon as possible.
Once the water is safely extracted from the facility, the next thing Cotton GDS will do is identify your dry standard. Every single surface in a building contains a level of moisture that is necessary for it to look and function properly, that amount of moisture is considered the dry standard. To identify your dry standard, Cotton GDS will use state-of-the-art technologies to measure the amount of moisture found in the dry, unaffected areas of your facility. The crews will then measure the moisture on the affected surfaces and compare the readings. Any surface that shows high levels of moisture will be marked as an area that needs drying. Eventually, all of the marked areas will create a moisture map that defines the perimeters in which the crews will work.
During the water removal and drying process, Cotton GDS will continue monitoring the moisture levels to ensure surfaces are returned to the dry standard. Under-drying and over-drying a surface could negatively affect its functionality or appearance, so it's important to get the moisture level right.
To attain the necessary readings and information, Cotton GDS uses a combination of infrared cameras, moisture meters, and moisture mapping technology. This technology, combined with Cotton GDS's expert service in water mitigation, could save the integrity of your structure and protect the future of your business.
Frequently Asked Questions
+ What is moisture mapping?
Moisture mapping is a visual representation or outline of the wet areas in your facility that need to be dried and returned to their dry standard. It also shows what areas in your building have not been affected by water damage. Moisture mapping is done using specific technology and instruments, such as infrared cameras, invasive moisture meters, non-invasive moisture meters, and thermo hygrometers.
+ Why are damage assessments necessary after a disaster event?
If your commercial property has suffered a water loss, it is important to get a damage assessment completed to know the full extent of the damage. If a damage assessment is not performed, there is a high chance that some water damage will go undetected and later cause microbial growth or weaken your building's structure.
+ How long is the moisture mapping and diagnosis process?
Cotton GDS prides itself on offering 24/7 rapid response to our clients worldwide. A project coordinator will meet with you as soon as it is safe to do so and will assess the damage. You will then be provided with a timeline that is based on the extent of the damage and your specific needs. Crews will work around the clock to restore your property to its pre-event state as soon as possible.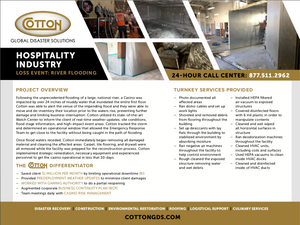 Cotton GDS was able to alert a hospitality client about the flooding of a national river before it occurred, reducing the amount of sustained damage to the facility. Once flood waters receded, Cotton GDS implemented strategic mitigation efforts that included damage assessment and moisture mapping techniques. By utilizing state of the art equipment, Cotton GDS was able to save the client millions by limiting operational downtime.