COMMERCIAL DAMAGE RESTORATION IN PANAMA CITY
COMMERCIAL DAMAGE RESTORATION IN PANAMA CITY
COMMERCIAL WATER, MOLD, AND DISASTER DAMAGE RESTORATION AND CONSTRUCTION IN PANAMA CITY
Panama City Beach

11935 Panama City Beach Parkway

Panama City Beach, Florida 32407
877.900.0493
9 minutes from Panama City Beach
21 minutes from Downtown Panama City
38 minutes from Tyndall Air Force Base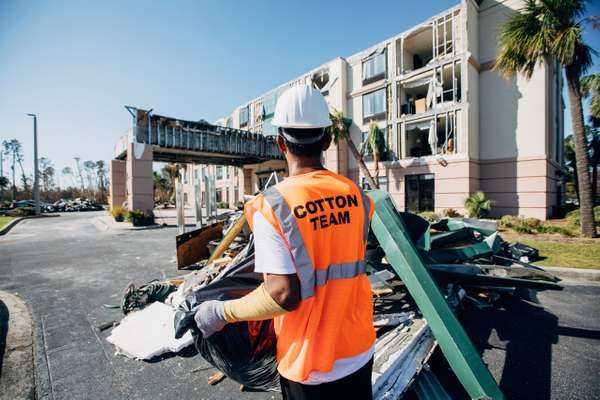 If you own or manage a commercial facility, hotel, or vacation rental in Panama City Beach, you know how important it is to have a restoration partner you can trust. With two office locations in Florida and 25 years of service, Cotton Global Disaster Solutions (GDS) is always within reach and immediately responds to your call.
Whether it's a capital expenditure (CAPEX) project, an emergency response situation, or a maintenance repair, Cotton GDS is here and ready to help. With 25 years of experience, state-of-the-art technology, and turnkey solutions, you can rest easy knowing your facility will receive professional service 24/7.
Cotton GDS crews in Panama City are available 24/7 and can quickly assess the damage, create an action plan, and get started immediately upon notification. Our turnkey solutions make us your one-stop-shop for commercial damage restoration services.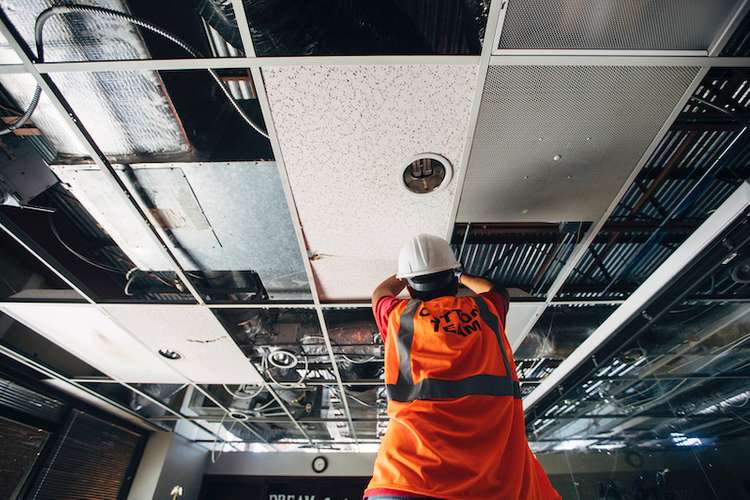 WATER DAMAGE RESTORATION IN PANAMA CITY
Water damage in PCB can largely be attributed to hurricanes and tropical storms, but can also be caused by leaking pipes and plumbing issues. The sooner the water damage is taken care of, the less you have to worry about structural damage and mold in the future. Cotton GDS can rapidly respond to your facility with the following water damage restoration services:
As your local restoration provider, Cotton GDS is ready to assist your hotel, condo, or rental home property with rapid response services, allowing you to reopen for guests as soon as possible.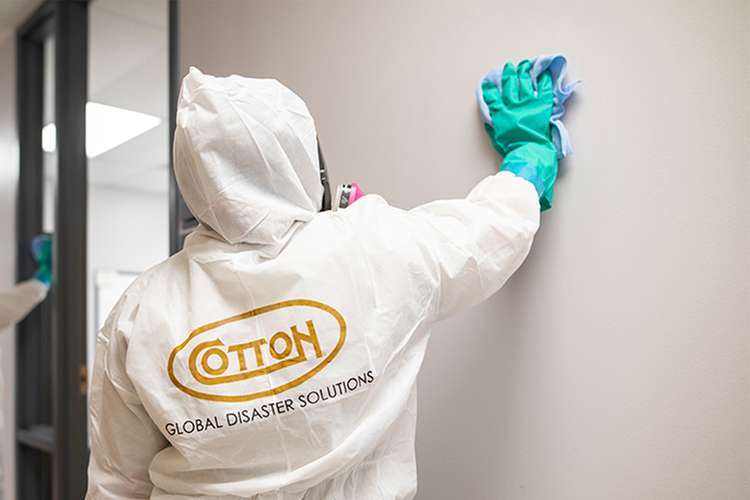 MOLD REMOVAL & DAMAGE RESTORATION IN PANAMA CITY
Hurricane-prone destinations, like Panama City Beach, are notorious for having mold issues. If mold is found in your commercial property, it's important to take care of it as soon as possible. Delaying the mold remediation process could result in:
Poor Indoor Air Quality

Respiratory Health Issues

Unpleasant Odors and Stains
Cotton Global Disaster Solutions is a certified mold remediator in the state of Florida and is available 24/7.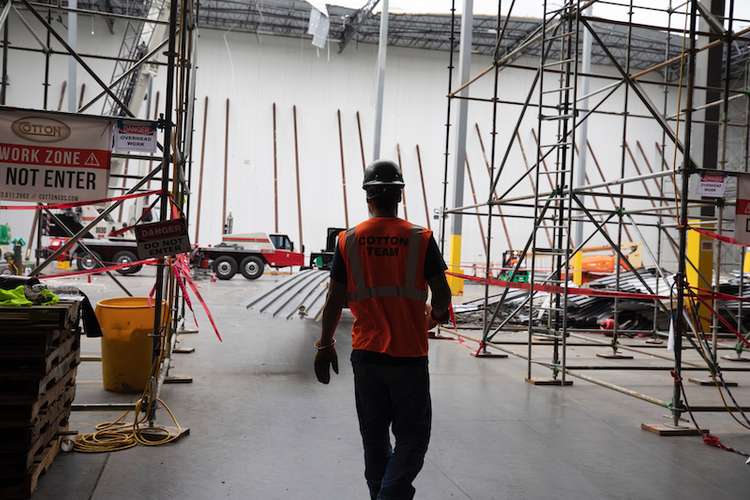 CapEx and General Construction in Panama City
Cotton GDS is a full-service general contractor with more than 25 years of experience in commercial construction. Whether you're looking to expand your facilities, remodel a few or all of the rooms, or need repairs due to property damage, Cotton GDS has the expertise to make your vision come to life.
ADDITIONAL COMMERCIAL DAMAGE RESTORATION SERVICES IN PANAMA CITY
Cotton GDS has been performing commercial repairs and restorations since 1996 and is your trusted partner when it comes to getting your business back in tip-top shape. Along with water damage restoration and construction, Cotton GDS offers the following turnkey solutions to minimize business interruption: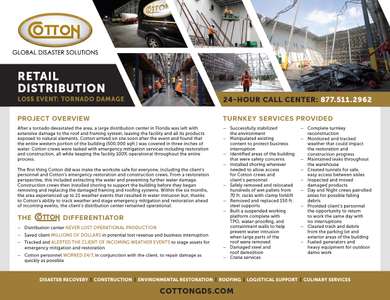 FLORIDA RESTORATION & CONSTRUCTION CASE STUDY
After a large distribution center in Florida was devastated by a tornado, Cotton was tasked with repairing the damaged roof and framing system, all while keeping the facility safe and 100% operational throughout the entire process.
COTTON'S SERVICE AREAS NEAR PANAMA CITY:
Bay County
Biloxi
Caryville
Chipley
Columbus
Defuniak Springs
Destin
Dothan
Ebro
Enterprise
Gulfport
Hattiesburg
Jacksonville
Freeport
Macon
Miramar Beach
Mobile
Montgomery
Niceville
Orange Beach
Panama City
Panama City Beach
Pensacola
Ponce De Leon
Tallahassee
Santa Rosa Beach
Walton County
Valdosta
Vernon
Youngstown
CONTACT US TO GET STARTED