EMERGENCY COMMERCIAL ROOFING CONTRACTORS
Industry-Leading Roof Contractor
Whether the result of a fire, severe weather event, or just a failing roof system due to age or defect, it is vital your roof structure is restored as quickly as possible. This will minimize the likelihood of further property damage and potential business interruptions.
Recognized as a Carlisle ESP Award recipient, Cotton Global Disaster Solutions (GDS) offers top-quality services for repair, replacement, maintenance, and emergency commercial roofing solutions. Specialists trained in every major roofing system are available 24/7 and are ready to deploy wherever needed.
For immediate help with roof repair and replacement, CALL 877.511.2962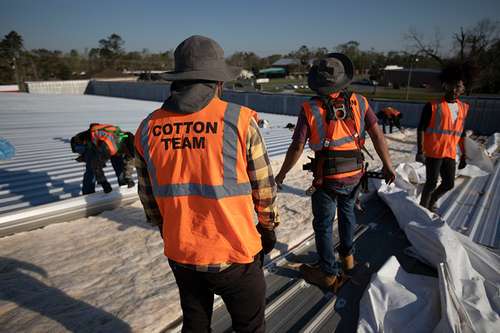 CONTACT A ROOF REPAIR AND REPLACEMENT EXPERT
THE COTTON DIFFERENCE
24/7 Situational Awareness
Pre-loaded Fleet for Immediate Dispatch
Trusted Global Partner in Restoration, Disaster Recovery, and Construction
Adhere to OSHA Standards, Along with Local, State, and Federal Regulations
Commercial-grade Equipment and Innovative Thinking
A strong, well-maintained roof protects your furniture, fixtures, and equipment (FF&E) from intruders and natural elements. It also serves as your first line of defense during a tropical storm, hurricane, derecho, or severe winter storm when intense winds speed through your region. Cotton GDS offers 25 years of experience in repairing and installing commercial roofs. Expert crews are certified and approved in the application of a variety of commercial roofing systems, including modified bitumen, silicone and acrylic coatings, metal, TPO commercial roofing solutions, and more.
GENERAL COMMERCIAL ROOF REPAIR SERVICES
Cotton GDS can perform preventative services, such as inspections, and reactive services during construction projects or typical wear and tear situations:
Maintenance and Service Programs
Roof Analysis and Budgeting
Roof Consulting
Infrared Thermal Imaging
Tile Roof Repair
Slate Roof Repair
Metal Roof Repair
Guttering Repair
New Construction
Partial Roof Replacement
Complete Roof Replacement
Green Roof Systems
Flat Roof Repair
Steep Slope Roof Repair
EMERGENCY COMMERCIAL ROOF REPAIR SERVICES
During a major storm, high-speed winds could send trees and debris through your roof or could cause major damage that requires immediate solutions. Cotton GDS offers the following emergency roofing services:
24-Hour Emergency Services
Roof Analysis
Leak Inspection
Leak Repair
Roof Tarping
Temporary Roofs
Roof System Repairs
New Roof Installation
Frequently Asked Questions
+ What should I do in the case of an emergency commercial roof leak?
If your commercial roof is leaking, you should first call a professional like Cotton GDS to inspect and repair the damage as quickly as possible. While you wait for crews to arrive, you can begin moving furniture or covering important assets to protect them from water damage.
+ How will I know if it's time to replace my commercial roof?
Unless you notice leaks, mold, or severe roof damage, it may be difficult to identify whether or not you need to replace your commercial roof. Getting an annual inspection done on your roof can help prevent costly damages in the future and will help you identify when it's time to get it replaced. The commercial roof repair experts at Cotton GDS can provide a free roof assessment to determine the state of your current roofing system.
+ Can I re-roof or do I have to replace my existing commercial roof?
The option of re-roofing your commercial property will depend on how damaged your system is. While re-roofing is less costly than a total roof replacement, it is mostly done for aesthetic purposes and will not repair major damages that lie beneath the existing shingles. It is also not recommended to re-roof if you have a metal roofing system.
The following are two scenarios where a complete roof replacement is required:
You've done re-roofing in the past: Due to legal regulations, commercial buildings cannot have more than two layers of shingles or roofing material. This law exists to prevent excess weight that could end up in a collapsed roof or building structure.
Your current roofing system is a hazard: If your existing roof is severely damaged, saturated, or unstable, it threatens the safety of your workforce and guests. Therefore, you will need to have your professional contractor install a new roof.
+ IS IT SAFE TO ENTER MY COMMERCIAL PROPERTY OR BUSINESS AFTER A FIRE?
Cotton GDS strongly advises you to avoid re-entering your business or commercial property after a fire. Beyond the risk of smoke inhalation, fire and smoke can weaken a building, increasing the possibility of your property collapsing and causing injuries.
+ CAN COTTON GDS HANDLE THE PROJECT FROM BEGINNING TO END?
Yes. Cotton GDS is proud to offer turnkey services, which allow for the completion of a project from beginning to end. These services include water mitigation, fire and smoke restoration, mold remediation, construction, roofing services, and more. Visit our services page to learn more.
ADDITIONAL COTTON SERVICES