COMMERCIAL HAZARDOUS WASTE DISPOSAL & CLEANUP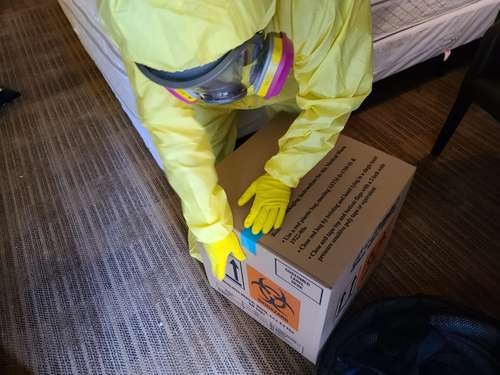 Remove Hazardous Waste From Your Commercial Facility
Hazardous wastes, such as sewer backup, drug residue, chemicals, and bodily fluids can cause sudden interruptions and health risks to your business, workforce, and occupants. Immediately after detecting a biological or chemical hazard in your building, you should contact a professional team that can effectively evaluate the situation, remove the contaminants and restores your property as soon as possible.
Cotton Global Disaster Solutions has a team of trained and experienced staff that follow established protocols for hazardous waste disposal and cleanup. The team utilizes EPA-compliant chemicals for disinfection and sanitization. Cotton adheres to all specified state regulatory agencies and guidelines for certified/manifested waste disposal.
All OSHA PPE guidelines are also followed to ensure full compliance and protection of staffing. Crews will work around the clock to ensure your employees, tenants, and guests return to a safe building, free of dangerous waste material.
For immediate hazardous waste disposal services, CALL (877) 511-2962.
THE COTTON DIFFERENCE
24/7 Situational Awareness.
Pre-loaded fleet for immediate dispatch.
Trusted global partner in restoration, disaster recovery, and construction.
Adhere to OSHA standards, along with local, state, and federal regulations.
Commercial-grade equipment and innovative thinking.
Biohazard Remediation Process by Cotton GDS:
Using the latest commercial-grade equipment, OSHA guidelines, and EPA-approved cleaning agents, Cotton GDS carefully removes harmful debris and disinfects every surface affected by hazardous waste. Once on-site, professional crews will perform the following actions:
A thorough evaluation of the situation and damage to determine a plan of action

Remediation of the affected area and materials

Removal of debris and materials damaged by the incident

Decontamination, cleaning, and sanitization of valuables that can be salvaged

Deodorization, using HEPA air scrubbers, to remove unfavorable odors

Proper documentation of the damage and remediation process for your insurance claim
Frequently Asked Questions
+ What are some examples of hazardous waste or materials?
Hazardous material or waste is any substance with the potential to harm humans, animals, or the environment through direct or indirect interaction. Common examples of hazardous material or waste are batteries, computers, chemicals, fertilizers, bodily fluids, and oil.
+ Why should I choose Cotton GDS for my waste management and hazardous waste disposal services?
Cotton GDS has 25 years of experience and takes a client-centric approach to your project. This means that you can trust Cotton GDS to not only remove and dispose of hazardous waste but do so in a way that meets your specific requirements.
+ HOW FAST CAN COTTON GDS RESPOND IF I NEED BIOHAZARD & HAZARDOUS WASTE CLEANUP & DISPOSAL SERVICES?
Cotton GDS is available 24/7 and can quickly deploy to your facilities for assessment and remediation. With strategically-placed field offices, pre-loaded fleets, and relationships with first responders around the world, Cotton GDS responds to disaster events quickly and efficiently.