BIOHAZARD & TRAUMA SCENE CLEANUP SERVICES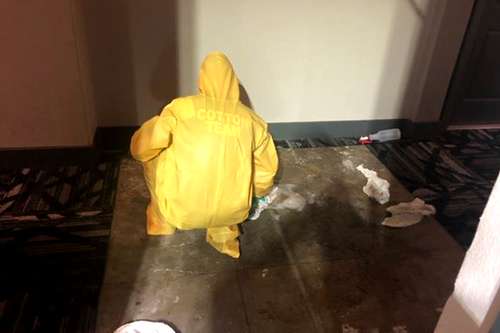 Experienced Crime Scene Cleanup Technicians
When a commercial property becomes the scene of a crime or traumatic event, the aftermath could leave staff and guests exposed to biohazards and health risks. Therefore, as soon as first responders leave, all traces of blood and biohazards should be eliminated by a team of experts with the right tools and protective equipment.
Cotton Global Disaster Solutions is committed to cleaning and disinfecting your property from biohazards as quickly as possible to reduce business interruption and eliminate risks. As your trusted partner, you can rely on Cotton GDS to handle the biohazard or crime scene cleanup professionally and with full confidentiality.
For immediate crime scene or biohazard cleanup, CALL (877) 511-2962.
THE COTTON DIFFERENCE
24/7 Situational Awareness.
Pre-loaded fleet for immediate dispatch.
Trusted global partner in restoration, disaster recovery, and construction.
Adhere to OSHA standards, along with local, state, and federal regulations.
Commercial-grade equipment and innovative thinking.
Rest assured knowing that Cotton GDS uses the latest equipment and techniques, and adheres to the guidelines set by regulatory agencies, such as OSHA, EPA, and local, state, and federal governments.
CRIME SCENE, TRAUMA, AND BIOHAZARD SCENARIOS
Cotton GDS values your business and will work around the clock to eliminate all traces of contaminants as efficiently as possible. With locations and professional partners around the world, Cotton GDS can rapidly respond to any emergency biohazard scenario and provide the necessary services, such as:
Forensic Cleaning
Fingerprint Dust Removal
Homicide or Suicide Cleanup
Crime Scene Cleanup
Trauma Incident Cleanup
Removal of Bloodborne Pathogens and Bodily Fluids
Teargas Removal
Fire Extinguisher Residue Cleanup
Restoration of Damaged Contents and Structure
Hoarding Removal & Restoration Services
Disinfection Services (Swine Flu, Staph, MRSA, HIV, Hepatitis, C Diff)
Frequently Asked Questions
+ Do I have to hire a company for crime scene cleanup?
Once the crime scene investigation has been completed, property managers are often left with hazardous remains and contaminants. To properly remove any potential biohazards, such as blood, body tissues, or bodily fluids, it's best to call a certified crime scene and forensic cleaning company. The certified company will have the right equipment and will clean up and dispose of hazardous wastes appropriately according to regulatory agencies.
+ Is crime scene & biohazard cleanup covered by insurance?
Most commercial insurance policies will cover crime scene cleanup services but you will need to check your policy and coverage to confirm. Cotton GDS has experience working with insurance companies during a claim and we are happy to assist our clients with the filing process.
+ What is a forensic cleaning service?
A forensic cleaning service removes biological or hazardous material from a place where a crime or trauma incident occurred. The service includes restoring the location to the condition it was in before the crime or trauma took place. These cleaning services require trained professionals that are familiar with hazardous materials and can dispose of them legally.