COMMERCIAL DEMOLITION CONTRACTORS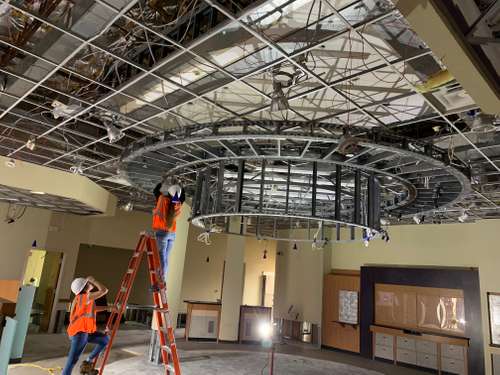 Commercial Demolition Contractor 
Commercial demolition is the complete or partial demolition of a commercial property, such as hotels, retail spaces, office buildings, hospitals, and schools. Whether your business is planning a building renovation or needs emergency structural repairs, Cotton Global Disaster Solutions has the experience and solutions needed to safely perform complete and partial demolitions as a commercial demolitions contractor.
With over twenty five years in the construction landscape, Cotton GDS has fully supported a wide range of businesses with commercial demolitions following water damage, fire damage, wide-spread disasters, and during capital improvements.
For immediate help with commercial demolitions, CALL (877) 511-2962.
THE COTTON DIFFERENCE
24/7 Situational Awareness.
Pre-loaded fleet for immediate dispatch.
Trusted global partner in restoration, disaster recovery, and construction.
Adhere to OSHA standards, along with local, state, and federal regulations.
Commercial-grade equipment and innovative thinking.
Complete and Selective Commercial Demolition
Cotton GDS is committed to completing your demolition services with precision and care. Utilizing the latest equipment, proven techniques, and years of experience, crews will ensure the service gets done safely and with little to no interruption to neighboring businesses. There are two types of demolition services that Cotton GDS can assist with - complete demolition and selective demolition.
Complete demolition is when a building or structure needs to be demolished entirely. This service might be needed after a fire or other type of disaster has damaged a facility so much that it has been deemed a complete loss. Complete demolition could also be needed when a property owner decides the building needs to be torn down to make space for new facilities.
Selective demolition is when only a portion of a building needs to be torn down, such is the case during reconstruction services or building expansions. This type of demolition often requires more planning to ensure the rest of the facility, and neighboring ones, remain unharmed.
In both cases, special equipment, strategies, and permits are needed to fulfill a client's needs. Cotton GDS helps with permit acquisition and is experienced with both types of demolition services. From traditional implosion to projects that require large equipment like cranes and wrecking balls, Cotton GDS is ready to help your business with commercial demolition.
Frequently Asked Questions
+ WHAT DOES THE COMMERCIAL DEMOLITION PROCESS INVOLVE?
Commercial demolition requires careful assessment and planning before any work begins. Depending on the type of demolition needed, there are different techniques we use to get the job done, such as mechanical demolition, select demolition, and implosions. Once the structure has been torn down, Cotton GDS will also provide cleanup and disposal services to keep your space clean and safe.
+ WHAT'S THE DIFFERENCE BETWEEN DEMOLITION AND DECONSTRUCTION?
The biggest differences between demolition and deconstruction are the amount of hands-on labor needed for each and the speed at which they go. Deconstruction involves carefully dismantling building material, many times by hand, to recycle or reuse it later. Demolition, on the other hand, utilizes heavy machinery and tools to tear down structures, making it a quicker option.
+ WHAT ARE THE ADVANTAGES OF HIRING COTTON GDS AS A COMMERCIAL CONTRACTOR?
For clients, there are clear advantages in using Cotton GDS's comprehensive turnkey services, including:
Reduced Stress: One of the biggest advantages for clients is that Cotton GDS offers a variety of services for their business, allowing them to narrow down the number of vendors they need to work with during difficult situations. Being able to communicate all their needs to just one vendor helps alleviate stress and anxiety.
Head Start: Cotton GDS's involvement in the clean-up phase of a project means our construction specialists are aware of the likely reconstruction and build-out requirements, allowing the project to move forward without delay.
Innovation: Familiarity with the project from the get-go allows Cotton GDS's specialists to identify innovative solutions that make the construction phase more efficient and cost-effective.
Turnkey Solutions: After a disaster, natural or man-made, Cotton GDS can handle mitigation and restoration to prevent further damage to the property. Once cleared, Cotton GDS can immediately begin the rebuild to return the property to its pre-event state.