DATA RECOVERY & ELECTRONICS RESTORATION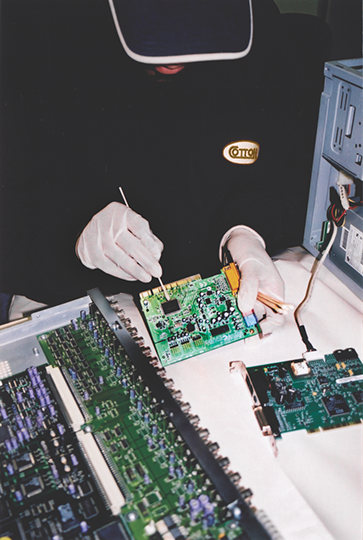 Professionals in Minimizing Business Interruption
In this day and age, companies rely on electronics to perform day-to-day operations, collect data, and store records in a safe place. The loss of a computer, server, or hardware due to a fire or disaster could have a long-lasting impact on business and revenue.
After 25 years of providing disaster recovery solutions, Cotton Global Disaster Solutions has the technology and experience required to efficiently restore electronics and recover valuable data following a catastrophic event. The data recovery process can be done in tandem as Cotton GDS works to repair and rebuild your property from damages caused by fire, water, and other natural or man-made disasters.
For immediate help with electronics and data recovery, CALL (877) 511-2962.
THE COTTON DIFFERENCE
24/7 Situational Awareness.
Pre-loaded fleet for immediate dispatch.
Trusted global partner in restoration, disaster recovery, and construction.
Adhere to OSHA standards, along with local, state, and federal regulations.
Commercial-grade equipment and innovative thinking.
The aftermath of a catastrophic event leaves electronic devices, server rooms, distro panels, among other assets, exposed to acidic soot and toxic debris. As your trusted partner in recovery, Cotton GDS carefully cleans each individual asset in a safe environment to spare it from corrosion and further damage.
Cotton GDS follows a 3-step electronic and data restoration process:
1: INSPECT AND PREPARE FOR CLEANING: The first step to the recovery process is removing electronics and equipment from the affected location and transferring them to a secure Cotton GDS restoration center. Once at the restoration center, the equipment can be carefully inspected and prepped for treatment.
2: CLEAN AND DECONTAMINATE: Whether devices are covered in soot or microbes from water damage, Cotton GDS works with EPA approved chemicals to effectively clean and deodorize assets to prevent corrosion.
3: REASSEMBLE AND RETURN: Once properly treated, items are reassembled, inspected, and tested for proper operation before being returned to the business owner.
Frequently Asked Questions
+ What kind of electronics and data does Cotton GDS recover?
Cotton GDS can recover electronic equipment, such as computer systems, local data servers, phone systems, data storage, manufacturing control systems, medical and office equipment, semiconductors, scientific research equipment, food production equipment, hotel and restaurant equipment, and other critical devices used for daily operations.
The data that Cotton GDS can help recover includes digital copies of customer records, important personnel information, and financial data that is stored on a company hard drive.
+ How do I know whether damaged electronics or data can be restored cost-effectively?
The overall cost will depend on the number of devices and data that needs to be recovered. Cotton GDS will conduct a thorough on-site inspection of the affected electronics and will provide a full report with recommendations and a cost estimate.
+ Why should equipment be restored rather than replaced?
Restoring equipment, rather than replacing it, could save a business both time and money. This is especially true in high tech, commercial, medical, and manufacturing businesses, in which lengthy equipment delivery lead-time often leads to significant downtime. Even after the equipment arrives, the installation and set-up time could require a few more days or weeks. In addition to the downtime, replacing items could lead to a costly insurance claim.