DAMAGE RESTORATION FOR TRANSPORTATION INDUSTRY
SHORTEN TRANSPORTATION SERVICE INTERRUPTIONS WITH COTTON
Whether by land, air, or sea, Cotton Global Disaster Solutions understands that the services provided by the transportation industry are integral to the day-to-day operations of the country, if not the world. Though critical to society's infrastructure, the transportation industry can still find itself hampered by natural and manmade disasters, environmental issues, or renovation needs. Cotton GDS prides itself in having the expertise needed to guide transportation facilities through these processes and provide rapid disaster response and recovery. We are available 24 hours a day for any damage restoration needs.
Society runs on the services provided by the transportation industry, which means any downtime due to disaster events can have far-reaching consequences. Thanks to expert staff and top-of-the-line equipment, Cotton GDS can respond quickly to these events and help guide transportation facilities through the restoration and recovery process that best fits them.
For immediate help with transportation facility restoration, CALL 877.511.2962
Our transportation restoration services
A combination of decades of experience and high levels of expertise in a range of restoration methods allows Cotton GDS to respond quickly to the needs of the transportation industry in times of disaster. No matter the kind of response needed, our team of professionals makes sure that any transportation facility is taken care of quickly and efficiently in order to minimize service interruption and get you back up and running as soon as possible.
Transporation Hubs & Facilities We Serve
Airports
Cruise Ships
Marine Shipping
Trucking
Railroads
Light Rails
Bus Stations
General Terminals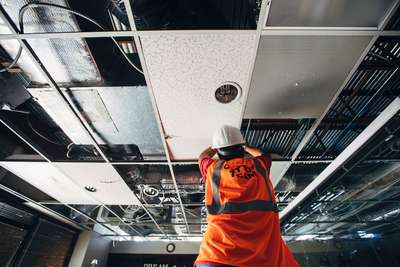 FREQUENTLY ASKED TRANSPORTATION RESTORATION QUESTIONS
+ HOW IS COTTON GDS DIFFERENT FROM OTHER TRANSPORTATION RESTORATION COMPANIES?
After 25 years of experience, Cotton GDS is uniquely suited to understanding the restoration needs of the transportation industry. We are aware that your operations must move forward, so we leverage our expert staff and cutting edge equipment to expedite your recovery process safely and efficiently. This combination of experience and resources allows us to provide quick response times to disaster emergencies dealing with water, fire, weather, or other kinds of damage as well as clear paths to have you back up and running as quickly as possible.
+ WHAT IS COTTON GDS' EXPERIENCE WITH THE TRANSPORTATION INDUSTRY?
With 25 years of experience in restoration and mitigation, Cotton GDS has worked closely with businesses throughout the transportation industry. Through the years, our efforts have mitigated and cleaned up damage from water, fire, and other disaster events quickly and efficiently thanks to our team of professionals and state-of-the-art equipment. Through close working relationships with clients, we create plans that quickly respond to your unique needs and help you get back to providing transportation services quickly.
+ HOW FAST CAN COTTON GDS RESPOND TO AN EMERGENCY AT YOUR FACILITY?
Cotton GDS is committed to always being there for your project - no matter the day or time. Our team of first responders and equipment are available 24/7 and can respond to a disaster quickly and efficiently.