Hospitality Environmental Response Cleaning & Disinfectant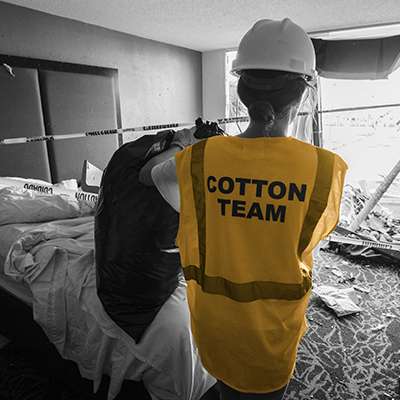 COTTON IS YOUR TRUSTED REMEDIATION PARTNER DURING THE CORONAVIRUS OUTBREAK
The hospitality industry receives many visitors each day and requires a full staff to run a well-oiled machine. For their safety, owners and managers are constantly monitoring their properties and ensuring they are as clean as possible. During the current COVID-19 pandemic, hotels and restaurants can continue reassuring guests that they are 100% committed to their well-being by hiring the Cotton GDS experts.
For over twenty years, Cotton GDS has provided the hospitality industry with biological and environmental cleaning and disinfection services, whenever and wherever they're needed. The safety and confidentiality of your business and guests are top priorities for Cotton GDS, along with completing the services as quickly as possible.
HOSPITALITY CLEANING & DISINFECTION SERVICES
CLEAN AND SANITIZE SURFACES
Wipe Down of Horizontal Surfaces

Sanitization of Vertical Surfaces

CDC-Approved Cleaning Agents
BROAD SANITIZING SOLUTION APPLICATION
Electrostatic Disinfectant Spray

Micro Mist Sanitization

Dry Fog Disinfection
ADDITIONAL COTTON SERVICES
Negative Pressure Rooms

Temporary Portable Assets

Emergency Food Services
ADDITIONAL COTTON ASSISTANCE
Cotton's turnkey services provide rapid solutions to the hospitality industry in times of need. With Cotton Logistics and Cotton Culinary, businesses can continue providing guests and employees with top-quality care in a safe environment, while Cotton GDS performs the necessary cleaning services.
Cotton Companies come together during the COVID-19 pandemic to help hotels and restaurants recover and prosper.
Skid- or Wheel-Mounted Units

Superior Quality Tension Fabric Enclosures

Mobile Crew Camp

ADA Compliant Shower & Restroom Trailers

Mobile Laundry & Kitchen Units

Hand-Washing Stations

Potable Water
Temporary Office Space

Temporary Dining Facilities

Emergency Food Service for Guests & Staff

Temporary Housing Facilities
BIOLOGICAL & ENVIRONMENTAL EXPERIENCE INCLUDES:
H1N1 (Swine Flu)
Avian Influenza
SARS
Mold Remediation
Forensic Cleanup
Laboratory Cleanup
Pathogen Cleaning
HAZMAT Cleanup
CONTACT US TO GET STARTED