Government Environmental Response Cleaning & Disinfectant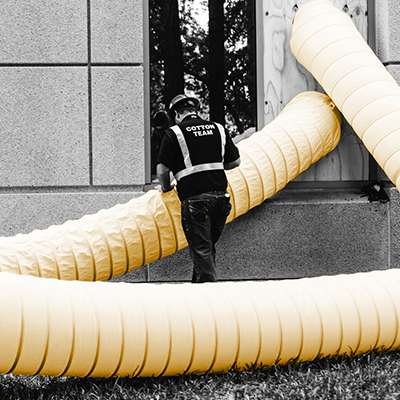 COTTON IS YOUR TRUSTED REMEDIATION PARTNER DURING THE CORONAVIRUS OUTBREAK
Cotton GDS has been providing cleaning and disinfection services to a variety of industries, including the government sector, for over two decades. During the COVID-19 outbreak, it is imperative that government officials and staff are provided with a safe place to work and serve their communities.
Whether government clients require office cleaning and disinfection services, temporary facilities, emergency food services, or a combination of all three, Cotton GDS is here and ready to assist.
GOVERNMENT CLEANING & DISINFECTION SERVICES
CLEAN AND SANITIZE SURFACES
Wipe Down of Horizontal Surfaces

Sanitization of Vertical Surfaces

CDC-Approved Cleaning Agents
BROAD SANITIZING SOLUTION APPLICATION
Electrostatic Disinfectant Spray

Micro Mist Sanitization

Dry Fog Disinfection
ADDITIONAL COTTON SERVICES
Negative Pressure Rooms

Temporary Portable Assets

Emergency Food Services
ADDITIONAL COTTON ASSISTANCE
As your partner in remediation, Cotton GDS can help in more ways than one. With Cotton's turnkey solutions, local and federal government facilities can continue helping their communities during the cleaning and sterilization process. Cotton Companies work together to provide solutions that support the ongoing operations of vital organizations nationwide and abroad.
Cotton GDS values the safety of our clients, and, together with Cotton Logistics and Cotton Culinary, we can help your organization move forward, safely, during the COVID-19 pandemic.
Skid- or Wheel-Mounted Units

Superior Quality Tension Fabric Enclosures

Mobile Crew Camp

ADA Compliant Shower & Restroom Trailers

Mobile Laundry & Kitchen Units

Hand-Washing Stations
Temporary Office Space

Temporary Conference Rooms

Mobile Command Centers

Temporary Housing for Government Staff

Culinary Food Service for Administrative Staff
BIOLOGICAL & ENVIRONMENTAL EXPERIENCE INCLUDES:
H1N1 (Swine Flu)
Avian Influenza
SARS
Mold Remediation
Forensic Cleanup
Laboratory Cleanup
Pathogen Cleaning
HAZMAT Cleanup
CONTACT US TO GET STARTED