Rapid Coronavirus Disinfection and Logistical Support for Government Entities
We Specialize in Government Emergency Response
In large-scale disasters like the COVID-19/coronavirus pandemic, public entities often are hit the hardest, as these are the services people immediately look to for assistance. Cotton Global Disaster Solutions is here for you every step of the way, providing immediate 24/7 support and COVID-19 relief solutions, and helping you get back to serving the community.
Our decades of experience dealing with health emergencies and biohazards make us uniquely qualified to tackle any disinfection, temporary facility, or logistical need.
Full-Scale, Turnkey Solutions
Surface cleaning and disinfection
Large-scale disinfection solutions
Temporary facilities
Emergency food service
Logistical support
CDC-Approved Disinfection
24+ years' experience in biohazards and emergency response
Solutions for hard and soft surfaces
Electronics recovery
Safe disposal of hazardous materials
24/7 response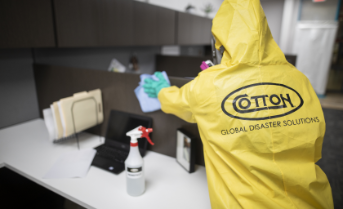 COVID-19 Disinfection Services
Our team of highly trained experts apply cleaning solutions and practices that adhere to local and federal regulations, as well as stringent CDC requirements to combat coronavirus.
Hard- and soft-surface disinfection
Horizontal- and vertical-surface disinfection
Electrostatic spray, micro mist, and dry fog for large-scale areas
Safe disposal of contaminated materials
Negative pressure rooms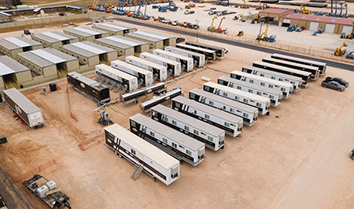 Temporary Facilities and Equipment
From mobile buildings to temporary support equipment, our turnkey solutions are ready to immediately deploy.
Mobile kitchens
Quarantine camps
Temporary power
Remote screening locations
ADA-compliant shower and restroom trailers
Mobile laundry and kitchen units
Hand-washing stations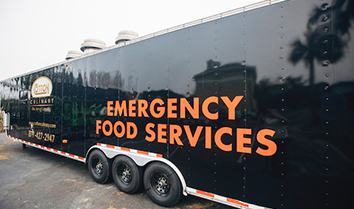 Food Service and Logistical Support
While you're on the frontlines assisting with the public's greater needs, we can provide support to alleviate your operations.
Emergency food service
Kitchen management services
Site construction
Daily operations management
Skilled and unskilled workforce staffing
On-site consultation and 24/7 support

Additional Resources