Education Environmental Response Cleaning & Disinfectant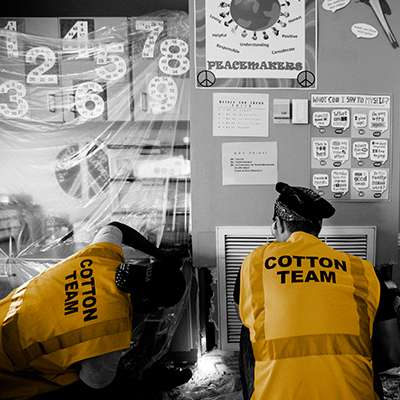 COTTON IS YOUR TRUSTED REMEDIATION PARTNER DURING THE CORONAVIRUS OUTBREAK
Each industry has its own set of unique cleaning and disinfection requirements. After twenty-three years of experience with biological and environmental cleaning, Cotton GDS is prepared to help the education industry clean and disinfect campuses, classrooms, student lounges, and cafeterias.
Cotton GDS is committed to the safety of your students and staff and rapidly responds to the needs of your campus. Using CDC-approved cleaning agents and techniques, trained experts will help keep your campus a safe place to work and learn.
EDUCATION CLEANING & DISINFECTION SERVICES
CLEAN AND SANITIZE SURFACES
Wipe Down of Horizontal Surfaces

Sanitization of Vertical Surfaces

CDC-Approved Cleaning Agents
BROAD SANITIZING SOLUTION APPLICATION
Electrostatic Disinfectant Spray

Micro Mist Sanitization

Dry Fog Disinfection
ADDITIONAL COTTON SERVICES
Negative Pressure Rooms

Temporary Portable Assets

Emergency Food Services
ADDITIONAL COTTON ASSISTANCE
With the help of Cotton's turnkey solutions, learning facilities can continue educating students and supporting their staff during the cleaning and disinfection process. Cotton Logistics and Cotton Culinary offer temporary solutions that support students and educators around the world.
Together with Cotton Logistics and Cotton Culinary, Cotton GDS helps schools move forward, safely, as the world navigates the implications of the COVID-19 pandemic.
Skid- or Wheel-Mounted Units

Superior Quality Tension Fabric Enclosures

Mobile Crew Camp

ADA Compliant Shower & Restroom Trailers

Mobile Laundry & Kitchen Units

Hand-Washing Stations
Classroom Space

Temporary Offices

Mobile Housing Units for On-Campus Residents

Temporary Dining Facilities

Emergency Food Service for Staff & Students
BIOLOGICAL & ENVIRONMENTAL EXPERIENCE INCLUDES:
H1N1 (Swine Flu)
Avian Influenza
SARS
Mold Remediation
Forensic Cleanup
Laboratory Cleanup
Pathogen Cleaning
HAZMAT Cleanup
CONTACT US TO GET STARTED