Hurricane & Tropical Storm Damage Restoration & Recovery
QUICKLY RECOVER OPERATIONS FOLLOWING A HURRICANE with cotton
To get your business back up and running following a hurricane or tropical storm, Cotton Global Disaster Solutions works with Cotton Roofing, Cotton Logistics, and Cotton Culinary to restore your physical property and provide support on all fronts, including temporary facilities and catering services.
During a tropical storm, wind speeds can reach upwards of 73 MPH, and for hurricanes, 74 MPH is the minimum baseline. High-speed winds have the power to damage roofs and break windows, leaving businesses exposed and vulnerable during and after the storm. In addition to damaging winds, continuous rainfall could lead to extensive water damages in and around commercial properties.
Cotton Global Disaster Solutions is available 24/7 and is committed to acting fast in the wake of a disaster to help business leaders recover their properties and assets as soon as possible.
For immediate assistance with disaster recovery, CALL (877) 511-2962.
THE COTTON DIFFERENCE
24/7 Situational Awareness.

Pre-loaded fleet for immediate dispatch.

Trusted global partner in restoration, disaster recovery, and construction.

Adhere to OSHA standards, along with local, state, and federal regulations.

Commercial-grade equipment and innovative thinking.
Cotton GDS is committed to being there for its clients before, during, and after a storm. As soon as news of a tropical storm or hurricane emerges, Cotton GDS alerts its clients of potential risks their business could face and continues checking in during and after an event.
MAJOR STORM CLEANUP AND FLOOD DAMAGE EXPERTS
Cotton GDS understands the importance of restoring your business quickly to limit business interruption. To better assist companies in hurricane-prone regions, Cotton GDS has strategically established a presence and reliable partnerships along the Gulf and Atlantic Coastal Plains, Cabo San Lucas, and Puerto Rico.
Cotton GDS follows a 5-step disaster recovery process after a hurricane or tropical storm:
Respond to emergency calls from the 24-hour hotline
Assess the damages and create a scope of work that limits business interruption as much as possible
Clean up debris left behind by the storm
Mitigate wind and water damages
Restore business property to its pre-event state or better, on time and within budget
Frequently Asked Questions
+ How can I prepare my business for a hurricane or tropical storm?
Before a hurricane or tropical storm, your business should monitor weather reports and follow the orders of local authorities. To protect your assets and property, store important equipment and documents in safe areas and board-up windows if possible. You can also begin planning for hurricane damage restoration way before a disaster strikes. Consult with your disaster recovery company, such as Cotton GDS, as you build your business continuity plan. Signing an MSA can speed up the recovery process with the disaster recovery company you trust.
+ How fast can Cotton GDS respond with hurricane damage restoration or flood cleanup?
Cotton GDS is available 24/7 and works around the clock to recover your business as soon as possible following any disaster or damaging event. Prior to the storm's landing, Cotton's internal Watch team monitors weather activity, which allows Cotton Representatives to alert companies within the path of the storm and keep them updated. With strategic partners located around the U.S., Mexico, and Puerto Rico, Cotton GDS can quickly mobilize its crews and assets to the disaster scene to begin recovery efforts.
+ If my commercial property needs storm damage restoration or cleanup, should I call my insurance first?
After a hurricane or tropical storm, insurance companies prefer you to call a commercial restoration company, like Cotton GDS, first to assess the damages as soon as possible and provide a restoration estimate. The sooner Cotton GDS arrives, the sooner the recovery process can begin.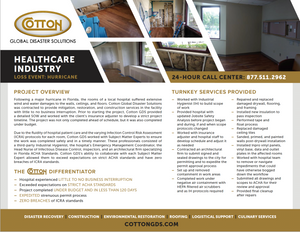 Following a major hurricane in Florida, the rooms of a local hospital suffered extensive wind and water damages to the walls, ceilings, and floors. Cotton Global Disaster Solutions was contracted to provide mitigation, restoration, and construction services in the facility with little to no business interruption. The project was not only completed ahead of schedule, but it was also completed under budget.