Hurricane Information Hub
2020 Atlantic Hurricane Season Forecast, according to NOAA
Property damages or loss of a business facility due to a disaster can result in business interruption, which leads to lost revenue, unexpected expenses, and the inability to contribute to the local economy. If your business has ever been impacted by a tornado, hurricane, earthquake, or another disaster, natural or man-made, then you've dealt with the painful aftermath and know it's important to have a trusted partner through the recovery process.
After 20 years in the industry, Cotton Global Disaster Solutions has earned the reputation of providing safe, efficient, and customized disaster recovery solutions for all types of incidents, large and small. Cotton GDS is your one source for total recovery.
For immediate help, CALL (877) 511-2962.
Current tropical disturbances GDS is monitoring
TS Whatever
Hurricane Whatever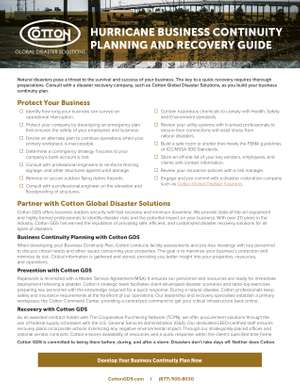 Download our Hurricane BCP Guide
NOTABLE DISASTERS COTTON GDS HAS RESPONDED TO:
Tropical Storm Allison - Houston, TX - 2001
Mudslide - Jamaica - 2005
Hurricane Katrina - New Orleans, LA - 2005
Hurricane Wilma - Cancun, MX - 2005
MC252 - Gulf of Mexico - 2010
Hurricane Isaac - New Orleans, LA - 2012
Superstorm Sandy - New York, NY - 2012
Hurricane Odile - San Jose del Cabo, MX - 2014
Hurricane Matthew - Savannah, GA - 2016
Hurricane Harvey - Houston, TX - 2017
Hurricane Irma - Florida - 2017
Hurricane Maria - Puerto Rico - 2017
Hurricane Florence - The Carolinas - 2018
Hurricane Michael - Panama City Beach, FL - 2018
Hurricane Dorian - Bahamas - 2019
Tropical Storm Imelda - Beaumont, TX - 2019
Tornado - Nashville, TN - 2020
ADDITIONAL COTTON ASSISTANCE
Following a disaster, your business might require extensive repairs to the roof and building's structure, but that doesn't always mean long-term business interruption. In addition to construction and roofing services, which help the exterior part of your business, Cotton Logistics and Cotton Culinary offer temporary facilities and catering services that allow your business to move forward with operations, so you may continue serving your communities.
COTTON CARES - COMMUNITY OUTREACH
During a disaster, Cotton GDS utilizes turnkey services to help your business through the recovery process from beginning to end. There's no need to hire different contractors when Cotton GDS can clean up debris, handle the mitigation, remediation, and reconstruction of your property until it is returned to its pre-event state or better.
Furthermore, the company's 24-hour vigilant team, The Watch, monitors weather activity and disasters worldwide that could impact clients and their communities. This ensures that Cotton GDS, its partners, and clients receive proper notice of potential severe weather and can plan accordingly. In the event of an unpredictable catastrophic event, such as a man-made disaster, The Watch immediately notifies Cotton GDS personnel, allowing for immediate response and the rapid mobilization of crews and equipment.
+ How fast can cotton gds respond to a disaster emergency at a commercial property?
Cotton GDS is committed to being there for your business 24/7. Its strategically-placed field offices, pre-loaded fleets, and relationships with first responders around the world allow Cotton GDS to respond to disaster events quickly and efficiently.
+ if a disaster strikes my business or commercial property, should I call my insurance first?
Insurance companies appreciate it when you call a commercial restoration company, like Cotton GDS, to begin disaster cleanup and fix damages as quickly as possible. You should still call your insurance company, but there's no need to wait for an adjuster to arrive before beginning necessary repairs and restoration. If you plan to file a claim, they'll need an assessment of the damage, with photos, and a restoration estimate. Calling Cotton GDS speeds up the process.
+ How long does the disaster restoration process take after an emergency?
Cotton GDS works around the clock to get your business back to its pre-event state as quickly as possible. However, the exact restoration timeline will vary depending on the severity and category of the damages. Once onsite, your Cotton GDS Project Coordinator will assess the damage and provide you with a customized timeline.
+ can cotton gds handle the project from beginning to end?
Yes. Cotton GDS is proud to offer turnkey services, which allow for the completion of a project from beginning to end. These services include water mitigation, fire and smoke restoration, mold remediation, construction, roofing services, and more. Visit SERVICES to learn more.